JLT


Posts: 740
Joined: Jan. 2008
---
Quote (keiths @ June 10 2009,15:37)
Mark Frank comments on vjtorley's latest, entitled The Conspiracy:
   

Quote
Re #35, #36 and #37

Wow! I am not sure whether you are serious. I hope not. You seem such a nice, rational chap - albeit mistaken about some things. If you really believe this lot then you must incredibly stressed and unhappy.

Wow. I'm speechless.
 
Quote
Vjtorley:

Thus the ultimate aim of the conspiracy is to create a world which is no longer governed by human decision-making processes, but by artificial intelligence. The leading lights of the conspiracy honestly believe that humanity, left to itself, will probably destroy the world in the next 200 years; rather than let that happen, they would prefer to create a more rational society, in which the key decisions are made by computers, not people. Humans are just too erratic and irrational to be entrusted with the governance of the planet, in the long term. Our brains, after all, are (according to the Darwinistic way of thinking) nothing but an assorted "kludge" of loosely integrated modules which evolved on an ad hoc basis to suit our immediate biological needs, but which can no longer evolve fast enough to cope with the demands of today's ever-changing world. In other words, the human brain is far too unreliable to make it through the 22nd century. We need new masters.

In such a world, human wants, which are potentially limitless, will have to be strictly regulated, lest we end up destroying the planet (and ourselves) with our infinite greed. Or so the thinking goes. But a little-noticed corollary of this line of thinking is that any talk of human rights will therefore have to be jettisoned, as a right is basically a human want which society is bound to respect, no matter what.

In this "hyper-rational" society of the future, there can be no talk of people having a right to life, for in practical terms that would seem to legitimize an unlimited demand for the resources that people need to live. It could, for instance, translate into hospitals overflowing with so-called "bed blockers" - people receiving scarce medical resources which might be better allocated elsewhere, on a purely utilitarian basis.


And that's the real reason people are in favour of euthanasia or assisted suicide: They want to destroy human rights and install our new robot overlords.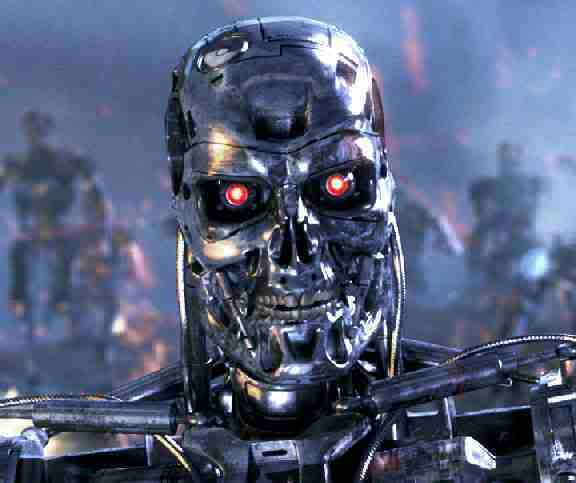 (Say Hi to our new master!)

--------------
"Random mutations, if they are truly random, will affect, and potentially damage, any aspect of the organism, [...]
Thus, a realistic [computer] simulation [of evolution] would allow the program, OS, and hardware to be affected in a random fashion." GilDodgen, Frilly shirt owner