Lou FCD

Posts: 5335
Joined: Jan. 2006
---
Quote (OgreMkV @ Nov. 14 2012,18:21)
Quote (GaryGaulin @ Nov. 14 2012,14:48)
Intelligence is here instead to dream to one-day ask you: What gravity?

"You must only realize the truth."

"What truth?"

"There is no spoon."

__

You've been living in a dream world, Neo.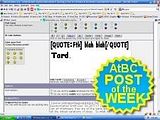 *cough*

--------------
Lou FCD is still in school, so we should only count him as a baby biologist. - carlsonjok - deprecated

I think I might love you. Don't tell Deadman - Wolfhound

Seduction by Louis, my NSFW new photography website.