Lou FCD

Posts: 5334
Joined: Jan. 2006
---
Quote (Wolfhound @ Nov. 04 2010,21:54)
Quote (OgreMkV @ Nov. 04 2010,08:00)
Quote (Badger3k @ Nov. 03 2010,23:44)
Quote (didymos @ Nov. 03 2010,23:28)
For some guy at PT who got bathroom-walled and wants to talk about evolution.

So there is a porpoise to this thread?

I hear it's a whale of a tale...

Cetacean, please.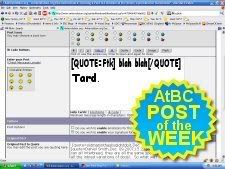 Oversight on my part, sorry.

Best I could do though, full-time student, yadayadayada

--------------
Lou FCD is still in school, so we should only count him as a baby biologist. - carlsonjok - deprecated

I think I might love you. Don't tell Deadman - Wolfhound

Seduction by Louis, my NSFW new photography website.