niiicholas

Posts: 319
Joined: May 2002
---
Some more peppered moth refs:

Peppered moth resting locations, and the assertions of Wells and others...

Peppered moths and the moon

Hooper's 'Of Moths and Men' and reviews thereof, Links, discussion, etc.



And a post from long ago:

======
Topic: The 'peppered myth' myth

Good old Jonathan Wells is at it again.

Desperately Defending The Peppered Myth:
A Response to Bruce Grant

Jonathan Wells
Discovery Institute
October 2, 2002

As you might recall, Wells' key argument in Icons of Evolution was this:


Quote

"Some biologists are aware of difficulties with a particular icon because it distorts the evidence in their own field. When they read the scientific literature in their specialty, they can see that the icon is misleading or downright false. But they may feel that this is just an isolated problem, especially when they are assured that Darwin's theory is supported by overwhelming evidence from other fields. If they believe in the fundamental correctness of Darwinian evolution, they may set aside their misgivings about the particular icon they know something about." (Icons, pp. 7-8)

As I (with numerous helpers) pointed out in the talk.origins FAQ on Icons of Evolution, entitled Icon of Obfuscation, in actual fact, the actual experts do not, as a general matter, see difficulties with the particular icons that Wells mentions. A case in point is the peppered moth -- not one, but both of the top two peppered moth researchers active today, namely Bruce Grant and Michael Majerus, have taken vehement exception to Wells' characterizations of their work, as is documented right here.

Both of them have also taken exception to the bad press that Kettlewell and his bird predation hypothesis have been getting in the popular media. This bad press has recently taken the form of a book by science journalist Judith Hooper, and the reviews thereof in the papers.

Bruce Grant, for example, wrote a rather scathing review of Hooper in Science; it is quoted here.

Majerus has not, to my knowledge, published a review of Hooper's book yet; but his opinion is likely to be very similar to Grants, based on Majerus' other comments on the media mischaracterization of the story in his 2002 book Moths:


Quote

Knowledge advances very unevenly. Great bounds forward resulting from a novel insight, or the development of a new technique, are punctuated by smaller advances as details are examined and defined. In many cases ideas are added to or amended. Such additions or amendment to the detail do not invalidate previous work: they endorse it. Thus, while Albert Einstein's view of the universe was more correct than Sir Isaac Newton's, we still revere the latter. More recently, Professor Stephen Hawking has refined and corrected some of Einstein's ideas.
This is as it should be, and I have no doubt that our current understanding of the mechanisms and processes of biological evolution will be amended and added to in the future. But this does not mean that our current perceptions are wholly wrong, they are just, as yet, not complete or wholly right.

Recent scientific writings in respect of the Peppered moth, which have examined the detail of this classical case and have identified some of
the weaknesses in experimental techiques in Kettlewell's work, have been taken by the anti-Darwinian lobby to suggest that the rise and fall of melanism in the Peppered moth does not provide supportive evidence of evolution by natural selection. This lobby has been extremely vocal in the media and on the Web. The arguments used are highly subjective and based on false premises, on data drawn very selectively from that available and on misquotations. It is relevant to point out here that every scientist I know who has worked on melanism in the Peppered moth in the field still regards differential predation of the morphs in different habitats as of prime importance in the case. The critics of work on this case and those who cast doubt on its validity are, without exception, persons who have, as far as I know, never bred the moth and never conducted an experiment on it. In most cases they have probably never seen a live Peppered moth in the wild. Perhaps those who have the most intimate knowledge of this moth are the scientists who have bred it, watched it and studied it, in both the laboratory and the wild. These include, among others, the late Sir Cyril Clarke, Professors Paul Brakefield, Laurence Cook,
Bruce Grant, K. Mikkola, Drs Rory Howlett, Carys Jones, David Lees, John Muggleton and myself. I believe that, without exception, it is our view that the case of melanism in the Peppered moth still stands as one of the best examples of evolution, by natural selection, in action.

Although I don't have the quote handy, Majerus also specifically repudiates one of the first press articles on the peppered moth "myth", that by Robert Matthews, "Scientists Pick Holes in Darwin Moth Theory," The Daily Telegraph [London] (March 25, 1999) (cited by Wells in his latest piece).

Anyhow, what does Wells do when it turns out that the experts in fact don't support his arguments? Does he follow his own arguments from authority in Icons and admit that, based on that same argument, he should give up his complaint? No, instead, he turns on the experts. A case in point is his recent article:

Desperately Defending The Peppered Myth:
A Response to Bruce Grant

Jonathan Wells
Discovery Institute
October 2, 2002

I shall quote the article and reply in-line.


Quote

Open almost any introductory biology textbook published between 1960 and 2000 and you'll see pictures of peppered moths resting on tree trunks, put there to illustrate the classic story of natural selection in action. Since the 1980s, however, biologists have known that the story is seriously flawed. In a new book, Of Moths and Men, Judith Hooper documents the rise and fall of what some scientists are now calling the peppered myth.
The only "scientists" doing this are Wells and his cronies. Find me a peppered moth researcher doing this, I challenge you.

As for "seriously flawed", the primary figure who has critiqued oversimplified textbook versions of the peppered moth story has been Micheal Majerus himself, and yet he has repeatedly and emphatically stated that it is his (well-informed) view that Kettlewell was basically right, and that the peppered moth story deserves to be in textbooks, with some revisions.


Quote

Yet the peppered moth story still has its defenders.

Namely, every scientist that has ever done extensive work on peppered moths since Kettlewell. Notably, this does not include Ted Sargent, whose only serious work on peppered moths was with testing Kettlewell's "constrast-conflict" hypothesis, a pet idea of Kettlewell's that peppered moths would actively seek out matching backgrounds. The truth of this idea (and it probably is not true, other research has supported Sargent on this) has no bearing on the general peppered moth story, although it did cause bad blood between Sargent and Kettlewell back in the 1970's, which may go a bit towards explaining Sargent's current skepticism.


Quote

One of them, College of William and Mary biologist Bruce S. Grant, writes in the August 9, 2002 issue of Science that Hooper's book is "marred by numerous factual errors and by misrepresentations of concepts and ontroversies." Ironically, however, it is Grant's review that has conceptual problems, misrepresents the controversy, and ignores what is probably the single most important fact about peppered moths.

Fair enough, Wells has every right to disagree with Grant and produce his case against him. Note, however, that Wells has no ground on which to assert that the experts support Wells on the peppered moth question.


Quote

THE RISE AND FALL OF THE CLASSIC STORY

Although natural selection is supposed to be the principal mechanism of Darwinian evolution, Darwin himself had no direct evidence for it. The best he could do in The Origin of Species was give one or two imaginary illustrations.[1] During the industrial revolution, however, peppered moths changed from being almost all light-colored to being predominantly dark-colored (melanic).

Wells is acting like a traditional creationist here, attempting to chip a bit off of the peppered moth case by attempting to sneak in the view that melanics made up a small percentage of the population before industrialization. There is no evidence for this view, and in fact, what evidence exists argues for a recent mutational origin, and that the only presence of the melanic allele in the population was due to the background mutation rate.

Majerus 1998, p. 99-100, cites Steward's (1977) list of earliest-known records of carbonaria, which shows a gradual spread of melanic observations from Manchester following the 1848
observation, and Majerus says


Quote

"Examination of this map suggests that the occurence of carbonaria across Britain is a result of a single mutational event...The whole impression is of a radiation out from a Mancunian point of origin, leading to the deduction that carbonaria has reached new areas by migration. This does not prove that all British carbonaria originated from a single mutational event. Mutation is a recurrent process and it is certain that the same mutation must have occurred several times during the last century. Indeed, there are definite records of independent mutational events occurring on the continent."
So this evidence is at least suggestive. Further
evidence comes from Majerus' (2002) citation of
another species in the Biston genus, Biston strataria (Oak Beauty), which developed industrial melanism in Holland but not in England, despite habits similar to B. betularia. Majerus says that in England the B. strataria melanic has "only been recorded as a rare mutation" and concludes that the right mutation in the right place simply never occurred for this species in England.

Additional evidence supporting the mutation idea is, of course, the Mendelian inheritance of the allele, and the fact that in Drosophila the molecular basis for melanic wings has recently been worked out:


Quote

Development 2002 Apr;129(8):1849-58

Reciprocal functions of the Drosophila yellow and
ebony proteins in the development and evolution of
pigment patterns.

Wittkopp PJ, True JR, Carroll SB.

Howard Hughes Medical Institute, Laboratory of
Molecular Biology, University of Wisconsin, 1525
Linden Drive, Madison, WI 53706, USA.

Body coloration affects how animals interact with the environment. In insects, the rapid evolution of black and brown melanin patterns suggests that these are adaptive traits. The developmental and molecular mechanisms that generate these pigment patterns are largely unknown. We demonstrate that the regulation and function of the yellow and ebony genes in Drosophila melanogaster play crucial roles in this process. The Yellow protein is required to produce black melanin, and is expressed in a pattern that correlates with the distribution of this pigment. Conversely, Ebony is required to suppress some melanin formation, and is expressed in cells that will produce
both melanized and non-melanized cuticle. Ectopic
expression of Ebony inhibits melanin formation, but increasing Yellow expression can overcome this effect. In addition, ectopic expression of Yellow is sufficient to induce melanin formation, but only in the absence of Ebony. These results suggest that the patterns and levels of Yellow and Ebony expression together determine the pattern and intensity of melanization. Based on their functions in Drosophila melanogaster, we propose that changes in the expression of Yellow and/or Ebony may have evolved with melanin patterns. Consistent with our hypothesis, we find that Yellow and Ebony are expressed in complementary spatial patterns that correlate with the formation of an evolutionary novel, male-specific pigment pattern in Drosophila biarmipes wings. These findings provide a developmental and genetic framework for understanding the evolution of melanin patterns.
It seems reasonable to think that something similar controls melanin levels in Biston.

I agree that the question is not quite absolutely
settled (and is not a crucial point in any case, peppered moths are primarily an example of natural selection), and won't be settled until someone does the molecular detective work in Biston, but (1) there is some published evidence for the origin-of-melanics-by-mutation view, and (2) none against.

The evidence *against* the "melanics were always
extant" view is that the melanic trait is dominant and therefore it is rather hard to imagine how this dominant allele could have gone unnoticed for long prior to 1848, given that, as Steward shows, collections were being made by naturalists.


Quote

Oxford geneticist E. B. Ford believed that Industrial melanism, as the phenomenon became known, occurred because melanic moths were better camouflaged on pollution-darkened tree trunks and thereby escaped being eaten by predatory birds -- in other words, because of natural selection.

In the 1950s, under Ford's guidance, British physician and amateur moth-collector Bernard Kettlewell
Describing Kettlewell as an "amateur moth collector" is like describing Roger Tory Peterson as an amateur bird watcher, but I digress.


Quote

released light and dark peppered moths onto nearby tree trunks and watched as birds ate the more conspicuous ones. When Kettlewell released moths marked with a tiny spot of paint and later recaptured some of them, the proportion of recaptured moths matching the color of nearby tree trunks had increased. These results were consistent with the camouflage-predation explanation for industrial melanism, and Kettlewell called them Darwin's missing evidence for natural selection.[2]

Wells frequently mixes up Kettlewell's various experiments, exposed vs. unexposed trunks and branches. Ian Musgrave has correct Wells on this in detail already, yet Wells still repeated the mistakes in his latest article.


Quote

[Ian Musgrave, ]http://members.tripod.com/aslodge/id77.htm]

Kettlewell did 5 different experiments :
1) Cage experiments with moths on trees
2) Direct field observations of predation on released moths
3) Filmed observations of predation on released moths
4) Indirect observations of predation
5) Mark recapture experiments.

In only experiment 3, the filmed experiments, did Kettlewell use moths placed on exposed trunks. This was due to the limitations required by filming. The main reason of the filming was to demonstrate that birds did find and consume moths, as many ornithologists did not believe that birds would search for and find cryptic moths. While the exclusive use of exposed tree trunks was not ideal, as Kettlewell himself observed, it was made necessary by the limitations of cinematography at that time.

In contrast, the direct and indirect predation experiments, and the mark release experiments, moths were released onto trunks AND branches (Kettlewell, 1955, pages 327, 332 and Kettlewell 1956, page 287). Note that, the moths were not only released on trunks. Furthermore, they were released onto shaded or shadowed areas of the trees (cf. moths on trunks in the shadow of branches in Majerus's Trunk-branch joint category). Thus in these experiments the moths were released in to areas typically occupied by about 50% of moths, and the experimental results will be more representative of the moth population in general than the filmed experiments. In these experiments differential predation was demonstrated.

Furthermore, Holwett and Majerus have done a pilot experiment comparing predation of moths on exposed trunks with predation of moths in shadow at trunk-branch junctions, the major resting site in their field observations. Differential predation was still observed for moths placed at shadowed trunk-branch junctions. For example, in polluted woods, more pale moths were taken by birds than dark moths, regardless of whether they were on exposed trunks or shadowed trunk-branch junctions. There was no statistically significant difference between the ratio of light to dark moths taken at trunk-branch junctions and the ratios taken on exposed trunks. The study was small, and a small difference may have been missed. However, the main conclusion we can draw is that Kettlewell's experiments are not invalid.

This must be emphasized. The majority of researchers, including critics such as Majerus (see for example Howlett & Majerus, 1987, Majerus 1998), agree that Kettlewell's results are qualitatively correct. Bird predation is a major, if not the major, selective force in industrial melanism. What these researchers are trying to establish is a correct quantitative estimate of the selective advantage of the various moth morphs in various environments. Kettlewell's original estimates are almost certainly over-estimates, but not big overestimates.

Summary: if our question is "Do peppered moths, in the wild, often settle on tree trunks", then the data from Majerus, the largest and best study of moth resting places in the wild, is a resounding "yes". If the question is "Do peppered moths, in the wild, often settle on exposed tree trunks" then the answer is a qualified yes, depending on whether one feels at least one moth in 10 resting on exposed trunks is "often" (it is certainly non-trivial). This later question is of less relevance as the majority of Kettlewell's experiments were not performed with moths resting exclusively on exposed trunks, but on shaded trunks and branches more representative of the moths natural resting places.

Wells recommends that readers consult the original papers to see for themselves, I agree most strongly, readers should go to the original papers and make up their own minds.

H.B.D. Kettlewell, Heredity 9 (1955): 323-342.
H.B.D. Kettlewell, Heredity 10 (1956): 287-301.
R. C. Steward, Ecological Entomology 2 (1977): 231-243.
K. Mikkola, Biological Journal of the Linnean Society 21 (1984): 409-421.
C. A. Clarke, G. S. Mani & G. Wynne, Biological Journal of the Linnean Society 26 (1985): 189-199.
R. J. Howlett & M. E. N. Majerus, Biological Journal of the Linnean Society 30 (1987): 31-44.
B. Grant & R.J. Howlett, Biological Journal of the Linnean Society 31 (1988): 217-232.
M. E. N. Majerus, Melanism: Evolution in Action (Oxford: Oxford University Press, 1998)

Quote

When pollution was reduced a few years later the proportion of melanic moths decreased, and this was interpreted as still more evidence for the camouflage-predation explanation.

As well it should be, this directly follows from Kettlewell's hypothesis.


Quote

A skeptic of Darwinian evolution might reasonably ask so what? Even if the camouflage-predation explanation were true, it would merely show that natural selection temporarily altered the proportions of light and dark peppered moths. It does not show how a new species of moth originates--much less how new orders (such as beetles or termites) or new classes (such as centipedes or horseshoe crabs) evolve. If the rise and fall of industrial melanism in peppered moths shows anything, it is how little natural selection actually accomplishes.

...in 50 years (about the time it took to get from 0 to 98% melanics in Manchester, and estimated to return to 0 in about 2010 following clean air laws around 1960). It is strange that creationists keep repeating the "its just microevolution" mantra to themselves, when scientists have themselves always advertised it as a case of observed natural selection rather than speciation or higher macroevolution. Something about it sticks in their craw, I think -- probably the obvious adaptiveness of camoflague, which is often designed by the military, hunters, etc. That a purely natural process can produce an effect quite similar to an intelligent activity (camoflague design) is, I think, what they find disturbing.

Anyway, here Wells returns to the pre-1998 creationist argument, the "it's just microevolution" argument. This has been an increasing theme in Wells' peppered moth writings. IMO, the more we see it, the less convinced Wells is of his position. When creationists have gone completely back to the pre-1998 position, you will know that the debate has been won.


Quote

It now turns out, however, that Kettlewell's experiments may not have even demonstrated natural selection. In the mid-1980s, biologists discovered that peppered moths only rarely rest on tree trunks in the wild.

This is straight-out, blatantly false.

(1) Wells used to blatantly say, flat-out "don't rest on tree trunks", and still does when he thinks he can get away with it.

(2) Majerus, the very authority who emphasized that branches were important resting sites for moths, not in exclusion to trunks, has noted that this is not a new observation, **but in fact what Kettlewell himself thought back in the 1950's**.

The fair thing to say regarding resting places is that peppered moths have a number of natural resting places, most commonly in the canopy, less commonly on tree trunks, and relatively rarely on exposed tree trunks (the exposed vs. unexposed distinction is continually glossed over by Wells).

This is supported by Majerus' data, it was Kettlewell's opinion, and is Majerus' assessement:

(Majerus, 2002, p. 222)


Quote

"So where do Peppered moths usually rest up throughthe day? Data sets are pitifully scarce. For example, Sir Cyril Clarke and his co-workers, writing in 1985, make the extraordinary admission that:

'...in 25 years we have only found two betularia on the tree trunks or walls adjacent to our traps, and none elsewhere.'

The largest data set on the natural resting positions of wild Peppered moths that I am aware of is my own. This comprises just 52 moths found in the wild in situations not affected by artificial lights (for example, moth traps, streetlights) over a period of 37 years (Table 9.4). These data, other data from observed resting sites close to artificial light (Majerus 1998) and experimental work by Mikkola (1984) and Liebert & Brakefield (1987) suggest that Kettlewell's 1958 observation ['I have on many
occasions been able to watch this species taking up its normal resting position which is underneath the larger boughs of trees, less commonly on trunks'] is essentially correct. Peppered moths generally rest by day on the underside of lateral branches and twigs in
the canopy (Figs. 9.3 and 9.4, Plate 14c), or if they rest upon trunks, they select a position in shadow where a branch joins the trunk."

Quote

These night-flying moths are now thought to rest during the day beneath small branches high up in the trees, where they can't be seen.

There is a bit of tactical ambiguity here from Wells -- can't be seen by birds or humans? Much of Wells' moth argument rests on the assumption that (1) moths never rest on tree trunks and (2) the implicit assumption that birds would not feed on moths in the tree branches. (1) is false, and (2) is ridiculous because birds have wings and are known to hunt in the tree tops as much as on the trunks.


Quote

Since Kettlewell released moths during the day onto exposed tree trunks, where the dazed insects froze in place and became easy targets for birds, his results may have had little bearing on what happens under natural conditions.

There is no evidence that the moths were "dazed", rather moths "clamping down" during the daylight is the normal behavior. And anyhow, Kettlewell used *the same procedure* in differently polluted environments, aka a controlled experiment, such that the reciprocal differential predation that he observed cannot be explained by his procedure: the variable was the pollution level.

And, of course, Majerus and others have repeated Kettlewell's experiments using different methods (Majerus, for example, placed moths both on trunks and under branches, and observed differential predation in both places)


Quote

Hooper's book lists many other flaws in the classic story, as well. For example, the major predators of peppered moths are probably not day-flying birds, but night-flying bats.

(1) There are many flaws in Hooper's book. See the discussion at t.o. : here and similar posts that come up at google under "hooper peppered moth".

(2) Majerus, who is actually an ecologist unlike Wells or Hooper, thinks that birds, not bats, are the major moth predators in England, see Majerus 2002 for discussion. Basically, there are only a few small bat species that far north IIRC.

(3) And even if bats were the major predators, so what? Bats are not expected to be *differential* predators on different colored moths, because they hunt -- by sonar! Hooper even quotes Kettlewell pointing this out, although she inconsistently later ignores his point and mentions bats as an alternative anyway. Why doesn't Wells mention this little inconvenient fact about bats?

(4) And even if bats did somehow differentially predate on different moth colors, then we'd just have a different/additional differential predator along with birds, and the peppered moth case would still be a case of the evolution of camoflague by natural selection from differential predation.


Quote

Furthermore, Kettlewell measured camouflage by his own eye, even though research has shown that bird vision is quite different from human vision.

It's somewhat different -- we see in red, green, blue, bird see in red, green, blue and UV (if memory serves). This wasn't known at the time of Kettlewell, but *still*, Kettlewell *did not* assume that bird vision was the same, rather, he conducted experiments with birds in (large) cages, to *verify* that birds usually picked off moths following the order of conspicuousness as identified by human eyes. Kettlewell certainly didn't "disregard" it as Wells alleges in the next sentence...

(also, Majerus' experiments on how moths look in the UV has demonstrated that, on the kinds of lichens (crustose) that live on the undersides of branches and beneath trunk-branch joints, where he thinks moths mostly rest, moths *are* cryptic in the UV, just like they are to human vision)


Quote

He and Ford also disregarded the possibility that selection might have operated--not on adult moths-- but on caterpillars, through differences in their ability to withstand pollution.[3]

All Wells cites here is Judith Hooper's book, because there is no published evidence supporting this contention. The dominant melanic allele is only identifiable in the adult stage, which only lasts a few days; the larval color is not dependent on it (Majerus 1998). It would be quite a coincidence if the same mutation that caused the color change wasn't spread to near-fixation for a color-related reason, but because it also just happens to help the larva out with pollution resistance. This idea also doesn't explain the rise in the other alleles that code for intermediate color, we're stuck assuming that all of these different alleles also all happen to have increased (and later decreased) by selection for (and later, against?) pollution resistance.


Quote

For these reasons (among others), a growing number of biologists have become critics of the classic peppered moth story. In 1998, University of Massachusetts biologist Theodore D. Sargent and two colleagues wrote in the journal Evolutionary Biology that although the camouflage-predation explanation may be true, in whole or in part, "there is little persuasive evidence, in the form of rigorous and replicated observations and experiments, to support this explanation at the present time." The same year, University of Chicago evolutionary biologist Jerry A. Coyne wrote in Nature that the fact that peppered moths do not rest on tree trunks
Note the Wells switcheroo to the more extreme claim...and he still hasn't mentioned Majerus' field data on moth resting locations...


Quote

"alone invalidates Kettlewell's release-and-recapture experiments, as moths were released by placing them directly onto tree trunks. Coyne concluded that this "prize horse in our stable of examples of evolution is in bad shape, and, while not yet ready for the glue factory, needs serious attention." [4]

Wells of course fails to note, or reference:

(1) The numerous review of Majerus' 1998 book that reached a conclusion entirely different from Coyne's, namely that Majerus had done a good update of the case and the peppered moth was in pretty good shape.

(2) That Coyne's 1998 review was rather obviously heavily influenced by Sargent et al. 1998, and has since backed off his claims somewhat (and see Coyne's review of Hooper in Nature, another thing that Wells doesn't cite, it is online here)

(3) That Majerus, Cook, and Grant all wrote rebuttals to the articles by Sargent et al. and Coyne. E.g., Grant cites them in a recent article, why can't Wells do it?


Quote

[Grant 2002, http://jhered.oupjournals.org/cgi/content/full/93/2/86 , Recent History of Melanism in American Peppered Moths B. S. Grant, and L. L. Wiseman, Journal of Heredity]

The proximal mechanism by which the selection occurs is not without controversy (Sargent et al. 1998), but only differential predation by birds on moths that are variously conspicuous against backgrounds of different reflectance has been repeatedly supported by experiment (reviewed by Cook 2000; Grant 1999; Grant and Clarke 2000; Majerus 1998).

Returning to Wells:

Quote

GRANT'S REVIEW: CONCEPTUAL PROBLEMS

According to Grant, Hooper and other critics exaggerate the flaws in the peppered moth story. Hooper's fundamental problem, he writes, is her "failure to clearly distinguish the evidence for natural selection and the mechanism of selection.[5]

Grant's distinction is confused, however, if not meaningless. Selection IS the mechanism (at least, the principal mechanism) of Darwinian evolution. If we have evidence for natural selection, then we know the mechanism; if we don't know the mechanism, then how can we say we have evidence for natural selection?

Because we know (1) how the heredity of the melanic and typical alleles works and (2) we know what the frequencies of those alleles were from the 1950's til now (and have a pretty good idea back to the 1800's). Something physicially changed the proportion of these alleles in the population, first one way (increase under pollution) and then back (as the environment was cleaned up). Drift can't explain it, random fluctuations can't explain it, mutation can't explain it: this is Grant's first argument, natural selection is the only known force that can change allele frequencies like this (plus, the changes follow the exact kind of "S" curve that is expected based on population genetics, and there are several more detailed features of the change also, e.g. intermediate frequency rise around the midpoint of melanic rise or fall).


Quote

Apparently Grant sees evidence for natural selection in the correlation between the rise and fall of melanism and the rise and fall of industrial pollution.

No, the known genetics and population genetics is key and not mentioned by Wells. If this kind of change occurred, except that we were talking about qualloods and the correlated environmental change was undiscovered, this kind of change in allele frequency would still be good evidence that NS was occurring.


Quote

He writes: "What is the mechanism of selection? Even the answer 'we have no clue' would not invalidate the conclusion that selection has occurred. Fortunately, the circumstances have left clues. Geographic and temporal variations in the incidence of melanism correlate with atmospheric levels of SO2 [sulfur dioxide, a pollutant] and suspended particles."

Yet scientists know that correlation does not mean causation. Indeed, it is part of the scientist's job to find the causes for correlations. When Jerry Coyne criticized Kettlewell's experiments in 1998, he wrote that it is necessary "to unravel the forces changing a character. We must stop pretending that we understand the course of natural selection as soon as we have calculated the relative fitness of different traits."

All this means is that evidence of natural selection does not automatically mean that the mechanism has been established. Wells is the one with the conceptual problem, indeed Coyne re-emphasizes exactly Grant's first point himself in his own review of Hooper:


Quote

The biggest shortcoming, however, is Hooper's failure to emphasize that, despite arguments about the precise mechanism of selection, industrial melanism still represents a splendid example of evolution in action. The dramatic rise and fall of the frequency of melanism in Biston betularia, occurring in parallel on two continents, is a compelling case of evolution by natural selection. No force other than selection could have caused such striking and directional change. Hooper's grudging admission of this fact occupies but one sentence: "It is reasonable to assume that natural selection operates in the evolution of the peppered moth."

This issue matters, at least in the United States, because creationists have promoted the problems with Biston as a refutation of evolution itself. Even my own brief critique of the story (Nature 396, 35?36; 1998) has become grist for the creationists' mill. By peddling innuendo and failing to distinguish clearly the undeniable fact of selection from the contested agent of selection, Hooper has done the scientific community a disservice.
Hooper is actually inconsistent on the natural selection issue, sometimes she appears to advocate induction, but whatever. Wells should quote Coyne's full views, not just the bits Wells likes.


Quote
A decade earlier, University of California biologist John Endler had put it even more pointedly: " strong demonstration of natural selection combined with a lack of knowledge of its reasons and mechanisms" is "equivalent to demonstrating a chemical reaction, and then not investigating its causes and mechanisms" - an enterprise Endler considered "no better than alchemy."[6]

I am suspicious of this quote (I'm pretty sure that Endler thought that assuming that you knew the mechanism of selection, with only evidence of selection but not of the exact mechanism, was what was like alchemy), but anyhow there is no evidence here that Endler thought that this was the case in the case of Biston.


Quote

Grant wants to call industrial melanism a demonstration of natural selection without clearly establishing the mechanism. According to his fellow evolutionary biologists, however, this pretense of understanding is no better than alchemy.

Wow, this is classic Wells right here. String together arbitrary quotes picked from the literature to tear down a position that Grant isn't even advocating. Grant has reviewed the evidence for the mechanism of bird predation himself several times in the literature.


Quote

The fundamental problem is not Hooper's failure to make a meaningless distinction, but Grant's wllingness to confuse correlation with causation.

Psha! Grant confusing correlation and causation?? Let's see what Grant's most recent research article on peppered moths says!


Quote

Both American and British peppered moth populations are converging on monomorphism for their respective typical forms, correlated with reduced levels of atmospheric pollution on both sides of the Atlantic. While a correlation alone does not establish a causal relationship, common correlations suggest a common cause.
(Grant 2002, Journal of Heredity)
(and don't forget the list of refs Grant put in this article in rebuttal to Sargent et al. 1998, which specifically review the evidence on mechanism)


Quote

GRANT'S REVIEW: MISREPRESENTING THE CONTROVERSY

According to Grant, "Hooper's book turns bizarre when she showcases American biologist T. D. Sargent as a wounded iconoclast whose career was stultified because Kettlewell dismissed his work. She argues that Sargent is now under attack because he questions the 'classical explanation' for industrial melanism."

But Sargent really is under attack--in large part from Grant himself. For example, in his review Grant faults Sargent for "protracted speculation about phenotypic induction" - the hypothesis that industrial pollution produced melanism directly, by inducing it in embryos, rather than indirectly, by discoloring tree trunks and thereby providing conditions for natural selection.

It is true that Sargent has maintained that until a selective agent has been clearly identified, the induction hypothesis cannot be ruled out;

The induction hypothesis is ruled out by the failure of experiments to uphold the claims of peppered moth inductionist (back in the 1930's) Heslop-Harrison, and by our modern knowledge of the genetics of melanism in the peppered moth. You might as well argue that blue eyes are an induced trait.


Quote

but it is also true that he considers some form of natural selection to be the most likely explanation. He and his colleagues wrote in 1998: "We feel certain that this phenomenon is a product of selection," though it is important to consider "the role that other selective factors might be playing in the melanism story."[7]

First, this contradicts Wells' previous argument in the article about selection not being establishable, if even the skeptics are for it in 1998. But on investigation of previous writings by Sargent and his coauthors, we find that they have all advocated induction or something vague but similar in the past. And in Hooper's book, Sargent says a number of vague and unsupported things which sounded pretty inductionist to me, although he attempted to combine them with selection. Sargent has yet to clearly state what exactly his hypothesis is or provide any evidence to support it.


Quote

Grant, it seems, would rather not consider any factors--selective or otherwise--except for camouflage and predation.

Grant continues: "But most egregious is Sargent's assertion that studies in North America falsify the classical explanation." Part of the classical explanation was that industrial pollution darkened tree trunks by killing the light-colored lichens that covered them. This part of the explanation, however, never made sense in North America, where melanism rose and fell without perceptible changes in lichen cover.

Arrgh! Based on short term and non-quantitative observations! Basically, Grant was just looking up at the trees IIRC.


Quote

Indeed, Grant himself was one of those who reported this fact. In 1996 he and his colleagues concluded that "the role of lichens has been inappropriately emphasized in chronicles about the evolution of melanism in peppered moths."[8]

One of Grant's main points in his writings has simply been that it's not *just* lichens, it's *also* tree species, soot, etc, that contribute to backgrounds, which is what Kettlewell originally thought anyway. E.g., Grant does report a change in background conditions in his 2002 article:


Quote

Other than statistically significant improvements in air quality, Grant et al. (1996) reported no visibly conspicuous environmental changes at the George Reserve. Here we note as a personal observation (from B.S.G.) that conspicuous changes have occurred in northeastern Pennsylvania following the collapse of the anthracite coal industry. Vast culm banks remain
widespread throughout the coal mining region, but these once barren, black "mountains" of slack now are largely overgrown by stands of gray birch trees (Betula populifolia) that have expanded over the past 40 years. Kettlewell (1955) suggested that the light bark of birch trees affords suitable resting backgrounds for the typical phenotype of the peppered moth even in polluted woodlands. The recovery of typicals has also coincided with the rapid expansion of birch stands in parts of Britain following the Clean Air Acts (Grant and Howlett 1988). We do not suggest that the recovery of typicals is dependent
upon birch trees, as typicals also thrive in mixed
deciduous woodlands where birch species are not
abundant (Grant et al. 1996); but birch trees, as do epiphytes in woodlands where they occur (Cook et al. 1999), contribute to the patterns and reflectance qualities of potential resting backgrounds used by adult moths.

Wells:

Quote

Nevertheless, Grant claims in his review of Hooper's book: "The American studies corroborate rather than contradict the classical explanation."

Grant has done the American studies, he should know.


Quote

He continues: "The history of melanism in American peppered moths closely parallels what has occurred in Britain, and melanism is correlated in like manner with levels of atmospheric pollution." In other words, Grant is merely reasserting the fact (which nobody disputes) that the rise and fall of melanism was correlated with the rise and fall of pollution. As we have seen, however, that hardly qualifies as scientific evidence for natural selection, much less as evidence for the classic explanation of camouflage and bird predation.

Wells is repeating the tactic of repetition, as if saying it twice makes it true. Grant is noting that seeing the same correlation in two places implies the same cause in two places, not that the mere fact of correlation establishes a cause.


Quote

So Grant misrepresents the controversy by making it sound as though Sargent rejects selection altogether.

What Sargent actually thinks is very unclear. He doesn't really have a coherant hypothesis.


Quote

He also misrepresents the controversy by omitting the fact that North American studies (some of which he himself conducted) falsified that part of the classic story that emphasized the role of lichens.

Here is some classic Wellsspeak -- misleading but technically accurate, or at least not blatantly wrong, in a lawyerly sort of way. Adding italics to point it out: "falsified that part of the classic story that emphasized the role of lichens."

Why can't Wells just say what Bruce Grant thinks, which is:


Quote

[Grant's webpage: http://faculty.wm.edu/bsgran/ ]

Grant, Bruce S. 1999. Fine tuning the peppered moth paradigm. Evolution 53: 980-984.

The Role of Lichens. Kettlewell most certainly subscribed to Tutt's view that typical peppered moths gain protection from birds by their resemblance to lichens, but he also allowed that other backgrounds could lend protection to typicals. "That the wild B. betularia population
of Rubery [the polluted woodland devoid of lichens] contained as much as 10.14 per cent
typicals is, in my opinion, due to the advantage of this form in the surrounding birch woods of
which there were many in the neighborhood" (Kettlewell 1955a). As the story of melanism has
been recounted and abridged, lichens were kept and birches were forgotten. Thirty years later
Clarke et al. (1985) mentioned that the steady increase in the frequency of typicals in their area was occurring without any noticeable increase in lichens on the trees. They added however that regional reductions in the soot component of atmospheric pollution meant that the surface reflectance from tree bark, even in the absence of lichens, would be lighter. Grant and Howlett (1988) further suggested that well documented increases in abundance of silver birch trees following the establishment of "smokeless zones" in the region presented significantly modified habitats. In review, Clarke et al. (1994) cautioned "...that the role of lichens...has been overstated. This is not to suggest that where lichens do occur betularia ignore them as refugia; instead, our findings show that typical peppered moths are not dependent on the presence of lichens to thrive." The rise and fall of melanic peppered moths in southern Michigan also occurred in the absence of lichen succession (there the lichens remained abundant); but the changes in melanic frequencies were consistent with declines in levels of atmospheric pollution, including suspended particulates (Grant et al. 1996). Reflectance from the surface of tree bark is strongly negatively correlated with atmospheric levels of suspended particles (Creed et al. 1973). In no case have the authors who have questioned the importance of lichens offered this as evidence against selective predation on the moths by birds. Crypsis, it would appear, is equally
convincing in the absence of lichens (see Fig. 2, Clarke et al. 1994, or Fig. 5, Grant and Howlett 1988). Yet, the mere suggestion that lichens might not be so important as we once thought is
either dismissed as anecdotal (as Majerus has done in his book), or taken as evidence against
predation as an important factor in the evolution of peppered moths (as Sargent et al. and Coyne have done in their reviews). Both reactions place too much attention on the importance of lichens. Kettlewell's view wasn't nearly so extreme.

Quote

GRANT'S REVIEW: IGNORING THE MOST IMPORTANT FACT

<crash> Oops, there went my irony meter.


Quote

In 1985, Cyril Clarke and his colleagues noted that in 25 years of field work they had found only one peppered moth naturally perched on a tree trunk; they concluded that they knew primarily "where the moths do not spend the day." In 1987, Rory Howlett and Michael Majerus reported that "exposed areas of tree trunks are not an important resting site" for peppered moths. A decade later, Majerus wrote a book summarizing the evidence and concluded that "peppered moths do not naturally rest in exposed positions on tree trunks."[9]

Note: *exposed*. Not all parts of tree trunks are exposed. Majerus is quite clear to distinguish exposed vs. various kinds of unexposed resting positions, e.g. his 1998 field data, which Wells as usual doesn't cite: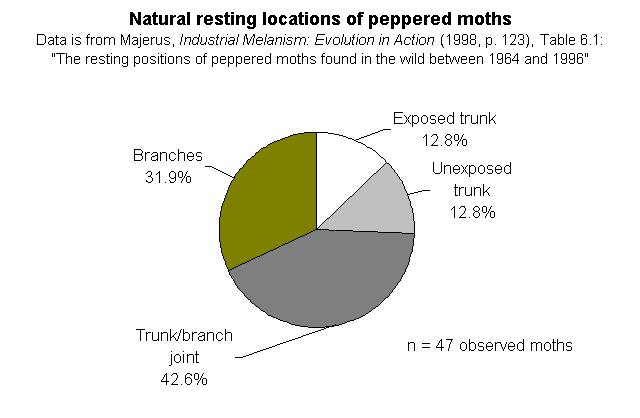 [note, this is slightly out of date now, see Majerus 2002 for updated nubmers]

Note especially in the following sentence the Wells tactic of subtley redefining what his sources actually said"


Quote

Since peppered moths don't normally rest on tree trunks, the textbook photographs had to be staged.

Whoosh! See that? Wells brushes right over the numbers which have been pointed out to him a zillion times, ignoring the moths that have been observed, naturally, even on exposed tree trunks, and concludes that the photos "had" to have been staged, as if most insect photos weren't staged except in special cases where deluding the public is the goal. For unstaged photos of natural moths, on tree trunks, see the refs here:

http://www.talkorigins.org/faqs/wells/#mothphoto


Quote

Some were staged using live moths, which are torpid in bright light and stay where they are placed; but many textbook photographs used dead moths glued or pinned in place. Yet textbooks don't tell students they are being shown a completely artificial situation.

Take out all the zoo pictures in the biology books too, they're all fakes!


Quote

Obviously, the natural resting-place of peppered moths is a crucial part of the classic story. As Coyne pointed out in 1998, the fact that they don't rest on tree trunks

...we've come a long way, baby, now the moths don't rest on tree trunks at all! Wells fails to note Coyne's mistake here on peppered moth resting locations, discussed here:

http://www.talkorigins.org/faqs/wells/#endnotes


Quote

invalidates Kettlewell's experiments; and textbooks that use staged photos without identifying them as such are misleading students about this important fact.

Now it's become an "important fact"! What about the fact that all the peppered moth researchers consider Kettlewell's experiments confirmed? What about the moths that actually do rest on tree trunks? What about the photos of unstaged peppered moths on tree trunks? Never mind, says Wells, with a few paragraphs of obfuscation we can forget about all of that.


Quote

Yet there is no mention of any of this in Grant's review. Perhaps he thinks that readers of Science will fail to notice the omission.
Maybe Grant wasn't reviewing Wells, but Hooper! When he reviewed Wells, this is what he said:


Quote

[http://www.talkorigins.org/faqs/wells/#mothgrant ]

Wells' Chapter 7 is pretty similar to his earlier ms. "Second thoughts about peppered moths" that he posted on the web, and published in abridged form in The Scientist. I sent you my comments about that version about two weeks ago. My general reaction to this latest version is about the same. He distorts the picture, but unfortunately he is probably pretty convincing to people who really don't know the primary literature in this field. He uses two tactics. One is the selective omission of relevant work. The other is to scramble together separate points so doubts about one carry over to the other. Basically, he is dishonest.

He immediately launches the claim "that peppered moths in the wild don't even rest on tree trunks" (p. 138). This is just plain wrong! Of course they rest on tree trunks, but it's not their exclusive resting site. He quotes Cyril Clarke's lack of success in finding the moths in natural settings, but he omits mentioning Majerus' data which reports just where on trees (exposed trunks, unexposed trunks, trunk/branch joints, branches) Majeru
---