JLT


Posts: 740
Joined: Jan. 2008
---
Hi Bjray,

A lot of the answers so far focused at least in part on the person of Dembski and I could understand if you felt compelled to defend him. But let's not waste time on him. If his criticism of evolutionary theory were legitimate, he could be a total asshole, incompetent, and promoting his criticism for the wrong reasons, that still wouldn't make his criticism less valid.
So, the question really is whether Dembski's (or Behe's, or Meyer's, or whoever) criticism is valid.
You clearly believe so:
     
Quote
Why is there such an irrational disgust for scientific data or theories that might combat evolutionary theory?

Scientists don't.
If it were valid, it would be dealt with. I don't know whether you read Uncommon Descent? Just a few days ago [URL=http://www.uncommondescent.com/speciation/uncommon-descent-contest-question-21-reposted-what-if-darwins-theory-only-works-6-percent-


of-the-time]they were crowing[/URL] over an article published in Nature, one of the leading scientific journals. Or, more precisely, they were crowing about an article in the New Scientist reporting about that article.

The author of the Nature article tested hypotheses regarding speciation. He looked at several phylogenetic trees and measured the branch length between speciation events, i.e. the time it took for speciation to take place. If speciation were the result purely of accumulation of variation then the branch lengths should be uniformly distributed, meaning that when a certain amount of variation is reached, speciation occurs. But what he found (and I'm simplifying a lot) was that the branch lengths he measured were distributed in a pattern that suggested that this wasn't true. In most cases, the pattern he found was instead best explained by speciation as a result of rare chance events. The purely "Darwinian" mode of speciation by accumulating variation occurred only in about 6 % of the cases he analysed.

If you read only the UD post about this topic you'd get the impression this paper overturns evolutionary theory. But it was published in Nature! If scientists are repressing scientific data that challenge the status quo why was this article published in Nature? The answer is easy. Challenging new insights are welcomed. This article was published in Nature and not in some less prominent journal exactly because it is challenging for some views of evolution and if Dembski et al. had legitimate criticism bolstered by data they'd be publishing in Nature as well.

But is this article really the overturn of evolutionary theory the UD crew would like you to believe? No, of course not.
A chance event that could lead to speciation is e.g. the metaphorically rising mountain that separate two populations. That's an example included in every text book.
We know that some species remain genetically compatible although they're clearly two separate species, e.g. tigers and lions while e.g. polyploidy in plants can lead to "instant speciation" because the polyploid offspring is genetically incompatible with the diploid parent plant.

So, we already knew that the event that leads to genetic incompatibility and/or speciation can be a chance event that is independent from how much variation is accumulated in separate populations.
And in no way does this article comment on the importance of natural selection in general. While the event that leads to speciation might be a chance event, species are still shaped by natural selection.

But why is the article published in Nature if we already knew all that? For one thing, it puts a number on it. While we knew that chance events can lead to speciation we didn't know how often that is the case. Secondly, because there're two lines of thinking – one emphasizes the importance of natural selection/adaptation for evolution the other emphasizes the importance of chance events for evolution. This article is another point in favour of the importance of chance events and, therefore, important for "the big picture", how we think about evolution in general.

And why am I telling you all that? Because it highlights a few things about the ID movement.

- They aren't interested in what the research really says. This is just one example where no one bothers to read the original article but instead quotes some parts of a pop sci article that include words like "surprising" or "controversial" and claims victory.

- They do not think about what research means in relation to their own proposal. What does this article have to do with ID? And of course, this article relays heavily on evolutionary theory. The calculation of branch length etc. is only valid if a lot of our understanding of evolution is valid, too – an understanding that is heavily criticised by ID people in other instances. Some proponents of ID do not even accept common descent – how can they then accept any of the conclusions of this article?

- They do not honestly represent current evolutionary theory. In this case they pretend that no one ever mentioned anything about chance events leading to speciation. That is clearly wrong.

But if they were interested in valid criticism of evolutionary theory they wouldn't do any of these things. They'd read the original article, they'd evaluate it in light of their own criticism, and they'd put it in the context of what evolutionary theory actually says.

That never happens, though. You can go over to UD and look at the last ten posts or so and you'll find several posts all along the lines of "this research shows that evolutionary theory is wrong" that all show the same short comings.
Actually, all of the output of UD or the Disco'tute can be grouped in one of four claims:

1. Darwin was a racist, plagiarized his "theory" (scare quotes are obligatory), and beat puppies (therefore evolutionary theory is wrong).

2. Darwinism led to school shootings, moral relativism, and/or the holocaust (therefore evolutionary theory is wrong).

3. This scientific research shows Darwinism is wrong (while not engaging in any way with the actual research).

4. Scientific research that shows Darwinism is wrong is repressed by a conspiracy of Darwinists that want to preserve the status quo (or "Help, help, we're being oppressed." Funnily, they don't seem to realize that 3. and 4. can't both be true.)*

So, if scientists are disgusted by ID proponents it is because of this: Their pretence to be interested in scientific criticism when they're clearly not. Instead, they're running propaganda mills.




* There's a fifth group of posts at the Disco'tute: Casey Luskin whining about Dover.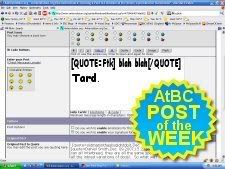 Edited by Lou FCD on Mar. 17 2010,16:55



--------------
"Random mutations, if they are truly random, will affect, and potentially damage, any aspect of the organism, [...]
Thus, a realistic [computer] simulation [of evolution] would allow the program, OS, and hardware to be affected in a random fashion." GilDodgen, Frilly shirt owner