Quote (Zachriel @ April 14 2007,01:32)
Quote (2ndclass @ April 13 2007,12:40)
Sewell:        

Quote
But the important thing to notice here is that virtually all of the good arguments against design come from outside science, they are all basically philosophical, or even religious, objections. If it were not for these problems, I don't believe anyone could possibly look at mathematics, or physics, or chemistry, or especially at biology, without seeing design.


How does Sewell look at mathematics and see design?  Did he find a secret message embedded in pi?

Well, that's the amazing thing! You can see anything you want in Pi. Pi is believed to be "normal", meaning that its digits are indistinguishable from random. And any finite string will appear somewhere in an infinite random sequence with virtual certainty.




So, the Bible is in Pi. The Book of the Dead is in Pi. The human genome is in Pi. This comment is in Pi. The true answers to all your questions are in Pi. The false answers to all your questions are in Pi. The winning lottery number is in Pi. The losing lottery ticket in your pocket is in Pi. Mona Lisa smoking a cigarette is in Pi.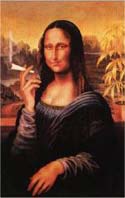 And Sewell's secret message is in Pi.

*Applause* Very Zen Zach ......Zavoury Zed's (or Zee's) Zenuflecting.

--------------


The conservative has but little to fear from the man whose reason is the servant of his passions, but let him beware of him in whom reason has become the greatest and most terrible of the passions.These are the wreckers of outworn empires and civilisations, doubters, disintegrators, deicides.Haldane