Lou FCD

Posts: 5335
Joined: Jan. 2006
---
Quote (Louis @ Feb. 09 2009,16:47)
**LENGTH AND SLIGHT CHEMISTRY WARNING**

Dear RFJE,

As I've said already "Hello and Welcome", I hope you have a productive and enjoyable time here at AtBC. I'm always amused when people come in espousing well refuted canards, erroneous nonsense, and generally being unpleasant. Especially when they then complain that they are somehow persecuted by the less than pleasant replies such behaviour engenders.

I am, however, for the moment going to ignore all that nonsense and focus on the chemical claims you make. I'm also going to ignore the philosophical and biological errors you make re: origin of life/naturalism/evolution. Others can deal with those if they like. What I'm going to do is make a break down of your chemical claims to make sure I have them correct:

   

Quote
Observable Chemistry Fact #1

Presence of water is a problem: Some amino acids break down in water by the process called hydrolysis. It actually breaks the bonds of the amino acids preventing them from forming the chains that build proteins. Stanley Miller, who attempted to create life in a test tube in the early 1950's, knew this, and isolated the products in order to avoid this destructive reaction.



a) Amino acids do not simply "break down" in aqueous solution at any appreciable rate at room temperature (and in the absence of other reagents), nor indeed do dipeptides or polypeptides. You can in fact buy aqueous solutions of most amino acids. The hydrolysis of the amide bond is comparatively difficult to achieve, normally requiring more forcing conditions (strong acid or base, or powerful nucleophiles etc). I think what you are trying to get at is that formation of the peptide/amide bond, which since it is a condensation reaction (i.e. the formation of an amide results in the elimination of a small molecule like water), is hindered by the presence of water. Below I have drawn a simple amino acid and a simple dipeptide (no solution structure is implied) to illustrate the difference for you.




Unfortunately, you are clearly unaware of very basic methods in chemical synthesis. Even though these are not claimed to be the precise routes taken during abiogenesis, they clearly demonstrate that water is not necessarily a hurdle to amide synthesis. Take for example the Schotten
-Baumann conditions for peptide synthesis. This is where a biphasic mixture of solvents, one of which is water and the other a water immiscible organic solvent, are used. The simplistic treatment of the various methods of peptide synthesis as equilibrium processes, and hence trivially subject to Le Chatelier's principle, misses many of the other thermodynamic and kinetic factors and is, in this case at least, erroneous.

Solid phase methods of peptide synthesis or use of activating agents like various carbodiimides etc can also be performed in the presence of water. Water isn't the problem you think it is. Not only that, aqueous phase syntheses of simple poly/dipeptides are not the only methods proposed for the origins of these sorts of molecules.

b) The Miller-Urey experiment included water as part of the design. The last bit of your claim is mistaken.

   
Quote
Observable Chemistry Fact #2

Presence of Oxygen: Stanley Miller purposely left out oxygen in his experiment. Why? Because he knew that oxygen would be corrosive and tend to destroy the organic compounds for life.

Some scientists have suggested that the early earth's atmosphere did not contain oxygen, but then the atmosphere would have had no ozone layer to sheild the compounds from the ultraviolet rays of the sun---a catch 22 for evolutionists. ALso, is there any evidence for a non-oxygen atmosphere?


a) Oxygen was purposely left out if the Miller-Urey because the best evidence at the time strongly suggested that the early atmosphere had no oxygen in it. Oxygen is a "pollutant" produced by organisms. What Miller and Urey were trying to do was see if simple molecules like amino acids etc could be produced by conditions similar to those proposed on the early earth. Many other experiments of this type have been performed, testing various hypothetical early earth scenarios.

b) Lack of stratospheric ozone is not a problem because UV radiation is not only destructive. It is also positively useful. Many "complex" molecules exist in space (in conditions of vastly greater UV radiation), not only that but UV can promote certain reactions. For example the formose reaction is positively aided by UV radiation.

c) Evidence for the early atmosphere being free of oxygen is found in the composition of rocks dated back to the Siderian period of the Precambrian.

     
Quote
ANOTHER SIGNIFIGANT PROBLEM

Amino acids in living things

1. There are 2000 types amino acids, of which are only 20 are found in living things. We're talking mathematics working against it now.


a) There are vastly more than 2000 possible amino acid types, another basic chemical misunderstanding on your part. The fact that 22 proteinogenic amino acids (plus a few non-proteinogenic ones) are commonly found in modern organisms, is not a mathematical problem for evolutionary biology or abiogenesis. This is no more a problem than the fact that my route to the pub commonly involves me walking via the park rather than via Uzbekistan. Firstly, like my route to the pub, many of the amino acids found in modern organisms are relatively simple (i.e. the R group side chain is not 16 Buckminster-fullerenes linked into a Borromean ring system, it's a methyl or tolyl group etc). If I were to take a pack of a billion cards and deal 22, that specific 22 card hand is no more or less improbable than any other 22 card hand. There may be reasons the 22 proteinogenic amino acids are the ones we find in modern organisms (thermodynamic stability, specific reactivity etc) but these are very complex and dependant on the chemical environment of the time.

     
Quote
2. THE BIGGEST PROBLEM--All amino acids come in left and right handed forms called "enantiomers." Living things have only the left handed amino acids. When Stanley Miller attempted life in a test tube, he produced only a racemic mixture of right and left handed amino acids that is detrimental to life.


a) There are a myriad of perfectly natural ways for homochirality to arise. Not least is autocatalysis (an example, again not specifically related to abiogenesis, but very indicative is my favourite the Soai reaction). Many other ways like crystal templating and chiral transmission etc. Not only that but once homochiral self-replicating systems like those actually proposed for abiogenesis exist then maintenance of homochirality is evolutionarily more favourable.

b) Again, Miller and Urey were not trying to create life in a test tube, they were trying to discover if simple molecules that are the building blocks of life could be produced by the conditions proposed for the early earth at the time. They could, and were. Miller and Urey did what  they were trying to do.

In conclusion, might I suggest that, instead of posting well refuted common misunderstandings of science on message boards, your missionary zeal inspired thirst for knowledge, if it actually exists, would be better served by some time in the library. As I recommended to Daniel Smith, there is a very good book on the current state of abiogenesis research by Pierre Luigi Luisi called "The Emergence of Life". I also recommend a couple of basic chemistry courses BEFORE you tackle that book.

Also, I have added a few links to Wikipedia etc for your edification. These are simple articles with very simple information in them. I suggest them as a beginning point for your investigation, not as "proof". As you claim to be a well read layman, it would behove you familiarise yourself with the very basic elements of the science you claim is in error because it contradicts your religious faith. A quick search of the internet, a medium you clearly have access to, would have disabused you of the fallacious claims you make re: abiogenesis.

Thanks

Louis

ETA: Several edits for formatting etc. More may be needed. Also, RFJE, I have a lot of experience dealing with creationists and I operate a "three strikes" policy. Demonstrate a modicum of intellectual honesty and engagement and I'll happily spend my valuable time explaining things and debating.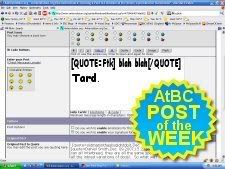 Quote (Dr.GH @ Feb. 10 2009,09:33)
Quote (RFJE @ Feb. 09 2009,19:41)
The other point is left handed amino acids--only produced in organisms.  Miller's random (with intelligent help) experiment produced left handed and mirror imaged AA which can not produce organic protein.[I]

Do I get an A for effort guys?

Before this new one runs away;

Regarding chirality (which creationists like to pontificate about without the slightest idea of what it means), there is actually no problem at all.

L-amino acids are not the only form of AAs used.

Pasteur discovered that most amino acids came in two forms which can be identified by how they refract light. We label theses L- (for levo or left) and D- (for dextro, or right). The interesting thing is that life on Earth uses the L form of amino acids, and hardly ever uses the D- form. A solution of just one form is called "chiral" and a mix of forms about 50/50 is called racimic. The kinds (L or D) are called enantomers.

The nucleic acid bases are also found in L- and D- forms, only in this case life on Earth only uses the D- form.

Creationists like to present this as a profound mystery that is supposed to "prove" that they are correct. I want to mention a neat instance where both left and right amino acids are used in a living thing. It seems at first to be very rare, but it does happen. Next time a creationist claims to be an "expert" and that amino acid chirility "proves" something supernatural, you can gob-smack-em. I have found that even many biologists will bet an "adult beverage" that all proteins are exclusive L- amino acids. The protein is called Gramicidin A and it has 8 L-amino acids, 6 D-amino acids, and one glycine which is an amino acid that is neither L- or D- in its structure. Gramicidin A links to itself and forms a transmenbrane pore. An important feature of these short racemic peptides is that they always form a helix.

Before we go forward another couple of basic chemical facts need to be added to the discussion. First, L- amino acids will randomly convert to D- amino acids over time, and D- forms will convert to L- forms. This is called "racimization" because eventually you will end up with equal amounts of L- and D- amino acids. The rate that this occurs at varies with the amino acid, and its surroundings. The fastest conversion happens to amino acid molecules all by themselves in hot water. Under cold, dry conditions when the amino acids are attached to one another, or better yet, if they are also attached to a mineral, racimization can be very slow. Very, very slow.

This means that if there is even a tiny advantage one way or the other, the favored form will become the dominant form. The advantage comes from a surprising direction: outer space.

Cronin, J. R. & Pizzarello, S., 1999. Amino acid enantomer excesses in meteorites: Origin and significance. Advances in Space Research 23(2): 293-299.

Service, RF, 1999. Does life's handedness come from within? Science 286: 1282-1283.

Antonio Chrysostomou, T. M. Gledhill,1 Fransois M'nard, J. H. Hough, Motohide Tamura and Jeremy Bailey 2000 "Polarimetry of young stellar objects -III. Circular polarimetry of OMC-1" Monthly Notices of the Royal Astronomical Society Volume 312 Issue 1 Page 103 - February

Michael H. Engel and Bartholomew Nagy, 1982 "Distribution and Enantiomeric Composition of Amino Acids in the Murchison Meteorite", Nature , 296, April 29, , p. 838.

Jeremy Bailey, Antonio Chrysostomou, J. H. Hough, T. M. Gledhill, Alan McCall, Stuart Clark, Fran‡ois M'nard, and Motohide Tamura 1998 Circular Polarization in Star- Formation Regions: Implications for Biomolecular Homochirality Science 1998 July 31; 281: 672-674. (in Reports)

Chyba, Christopher F. 1997 Origins of life: A left-handed Solar System? Nature 389, 234- 235 (18 Sep 1997)

Engel, M. H., S. A. Macko 1997 Isotopic evidence for extraterrestrial non- racemic amino acids in the Murchison meteorite. Nature 389, 265 - 268 (18 Sep) Letters to Nature

That should do for that. The next question is can the advantage of L- amino acids be conserved in the formation of more complex molecules called "peptides?" Yep.

Schmidt, J. G., Nielsen, P. E. & Orgel, L. E. 1997 Enantiomeric cross- inhibition in the synthesis of oligonucleotides on a nonchiral template. J. Am. Chem. Soc. 119, 1494-1495

Saghatelion A, Yokobayashi Y, Soltani K, Ghadiri MR, 2001"A chiroselective peptide replicator", Nature 409: 797-51, Feb

Singleton, D A,& Vo, L K, 2002 "Enantioselective Synthsis without Discrete Optically Active Additives" J. Am. Chem. Soc. 124, 10010-10011

Yao Shao, Ghosh I, Zutshi R, Chmielewski J. 1998 Selective amplification by auto- and cross-catalysis in a replicating peptide system. Nature. Dec 3;396(6710):447-50.

And there seems to be other L- selection advantages as well. For example:

Hazen, R.M., T.R. Filley, and G.A. Goodfriend. 2001. Selective adsorption of L- and D-amino acids on calcite: Implications for biochemical homochirality. Proceedings of the National Academy of Sciences 98(May 8):5487.

So chirility doesn't seem to be a big problem. This is far different from the way creationists present this. They cite a few out of date reports and then falsely claim that chiral life is impossible by natural means.

There are larger arguments for a racemic origin of life.

Edward Trifonov (2004) confirmed two ideas, that the earliest amino acids were those easiest to form abiotically, that codons and aa's organized contemporaneously to form short ogliomers (what he didn't cite was the notion that oligomers can form spontaneously, are "selected" merely by being stable, and that RNAs (or Lacanzo and Miller's PNAs) imprint and replicate "successful" short peptides.) Trifonov wrote, "The amino-acid chronology itself is a quintessence of natural simplicity and opportunism: use first those amino acids that are available. When done with all codons, take from those amino acids that have too many."

The fact is that there are a growing list of short proteins with D- aa's, (most of the ones I know of are bacterial membrane components but there are also examples from yeasts to humans). Add to this, most bacteria have evolved enzymes that convert L-aa's to D-aa's for the same Miller/prebiotic amino acids. Again even we humans have enzymes to use D-aa's.

ETA: I forgot to include two citations:

Lazcano, Antonio, Stanley L. Miller
1996 "The Origin and Early Evolution of Life: Prebiotic Chemistry, the Pre-RNA World, and Time" Cell vol 85:793-798


Trifonov, Edward N.
2004 "The Triplet Code From First Principles" Journal of Biomolecular Structure & Dynamics, ISSN 0739-1102 Volume 22, Issue Number 1, (2004)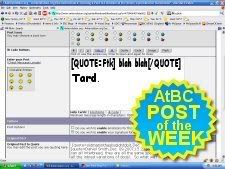 I am hereby unilaterally awarding dual PotWs.

Excellent and informative, not to mention just plain cool science.

--------------
Lou FCD is still in school, so we should only count him as a baby biologist. - carlsonjok - deprecated

I think I might love you. Don't tell Deadman - Wolfhound

Seduction by Louis, my NSFW new photography website.