Erasmus, FCD

Posts: 6349
Joined: June 2007
---
I received 29 replies, including a few here and there that I ferreted out of the thread.  

Unfortunately, there was a tie.  I have chosen to break this tie by casting my vote for AFDave.

AFDave-  6 votes

Several of you provided hilarious reasons for why you consider AFDave the top tard OF.ALL.TIME. but this one was such a fantastic summary that I included it en toto.


Quote
I have to nominate AFDave. Dave has so many qualities that rank him so much higher than yer snarling, snivelling Joes, Dembski's voguing in a white-coat, the apoplectic psychopathy of Gordo, or the chest-pounding, belly-quaking bar-room bluster of DaveTard. Densye is simply dull, even with her occasionally sig-worthy inanities.

Dave, on the other hand, is unfailingly cheerful and enthusiastic in presenting his argument. He has read his Trusted Sources, and he knows they're Right. He presents us with this path to enlightenment confident that, misguided as we are, we must be persuaded by the impeccably sourced and acutely argued case he makes.
When his opponents and adversaries point out the sundry flaws, omissions and gullible-isn't-in-the-dictionary class howlers, Dave always obliges with the Maginot Line response: miles of elaborately constructed, impregnable defences focused on a point entirely remote from where the attack came from.

No statement is so spherically wrong that Dave will not defend it to the last. No quote-mine is so egregious that Dave will fail to point out that it uses precisely the same alphabet as the original. Every accusation of stealing cookies will be denounced with a crescendo of denial and a spray of crumbs. The game will continue for pages, for weeks, but not once will Dave fail to defend The Truth and the unimpeachable accuracy and sagacity of his Authoritative Sources.

What truly distinguishes Dave from other creotards is the unbridled enthusiasm with which he will launch one fractally stupid argument after another, all in the cause of The Truth. Daniel steps into the lions' den, clad in his armour of bacon. Dave has found his divine calling, and it is us.


ahhhh, yes, the good old days back when the tard was liquid

Next up is Gordon E. Mullings, the child pornography collector, white knight of the internet, protector of the constitution of carribean rocks, loquacious twat, unethical liar for jesus.  5 votes


Quote
entertainment incarnate

Quote
absolute cunt with no redeeming features whatsoever

Quote
red herrings and strawmen soaked in adhominem oil


DaveTard was next with 4 votes.  


Quote
inventor of the floating command center and experimenter with mushrooms. The marines are still praying for him - especially the ones that work at Dell.

Quote
wealth, breadth and Janibelle



Dr.Dr. BillyBilly Dumpski got 3 votes.


Quote
supreme tard creator
Quote
There is nobody as blind, pathetic, myopic, yet convinced they are right in the annals of annals… He is the alph and the omega of tard with a beta-version of brains.  The yin and the yang and the yo-yo of tard.  He can throw out big words like a true pedant, but believe in angels.  He can debate Christopher Hitchens badly, but believe in his black little heart that he won.  


ahhhh yes

Next, Gildo got 2 votes.  How pathetic he is.  I think one of these was a sympathy vote because of the frilly shirt.


Quote
He's got it all: stupidity, arrogance, cognitive dissonance, science envy, extreme Oedipal issues, questionable emotional stability and raging insecurity.



Tards tallying one vote each

David Berlinski-Berlinski  
Quote
best ID interviewer of hisself in the 3rd person



gpuccio
Quote
he has no excuse for being such a fool


ilion  
Quote
"wandering jew award"


jerry
Quote
PM Yourself, you magnificent bastard


Joy Busey
Quote
belligerent stupidity and synesthetic cock-surety



Casey Luskin

Phillip Johnson

Robert Byers  
Quote
endless supply of ignorance, xenophobia, bigotry and misogyny all contained within a semiliterate fundy YEC wrapper of broken english and nonsequitor.



Theistoclast  
Quote
sheer longevity and intractability


William Wallace

Thanks for playing!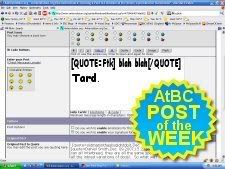 Edited by Lou FCD on Sep. 13 2012,19:42



--------------
You're obviously illiterate as hell. Peach, bro.-FtK

Finding something hard to believe based on the evidence, is science.-JoeG

the odds of getting some loathsome taint are low-- Gordon E Mullings Manjack Heights Montserrat

I work on molecular systems with pathway charts and such.-Giggles