Erasmus, FCD

Posts: 6349
Joined: June 2007
---
Quote (k.e.. @ Sep. 24 2012,06:35)
Quote (JohnW @ Sep. 23 2012,19:22)

In related news, my cat is teaching next door's golden retriever about Post-Impressionism.

I frequently discuss that great art movement the no-Pointellists with my postman.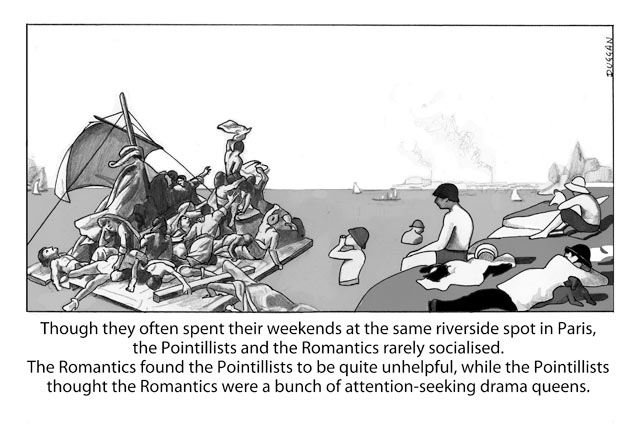 http://www.pnas.org/content....ml?etoc
Quote
Quote
Pointillist structural color in Pollia fruit
Silvia Vignolinia, Paula J. Rudallb, Alice V. Rowlandb, Alison Reedc, Edwige Moyroudc, Robert B. Fadend, Jeremy J. Baumberga, Beverley J. Gloverc,1, and Ullrich Steinera,1
+


Biological communication by means of structural color has existed for at least 500 million years. Structural color is commonly observed in the animal kingdom, but has been little studied in plants. We present a striking example of multilayer-based strong iridescent coloration in plants, in the fruit of Pollia condensata. The color is caused by Bragg reflection of helicoidally stacked cellulose microfibrils that form multilayers in the cell walls of the epicarp. We demonstrate that animals and plants have convergently evolved multilayer-based photonic structures to generate colors using entirely distinct materials. The bright blue coloration of this fruit is more intense than that of any previously described biological material. Uniquely in nature, the reflected color differs from cell to cell, as the layer thicknesses in the multilayer stack vary, giving the fruit a striking pixelated or pointillist appearance. Because the multilayers form with both helicoidicities, optical characterization reveals that the reflected light from every epidermal cell is polarized circularly either to the left or to the right, a feature that has never previously been observed in a single tissue.


--------------
You're obviously illiterate as hell. Peach, bro.-FtK

Finding something hard to believe based on the evidence, is science.-JoeG

the odds of getting some loathsome taint are low-- Gordon E Mullings Manjack Heights Montserrat

I work on molecular systems with pathway charts and such.-Giggles