Wee Willy Dembski Productions (in association with Jesus, Inc.) Presents: An imminent APOCALYPSE.

Yes, fight fans, it'll be a clash of titans -- a two-day conference on the campus of Southwestern Baptist Theological Seminary that will pit the pure, heavenly God-inspired forces of faith against the foul humanist (*ptooie!*) DARK POWERS OF EVIL SCIENCE.

WHO WILL WIN?!?! WHO WILL EMERGE VICTORIOUS FROM THE STEEL-CAGE OCTAGON OF DOOM?

Buy your tickets now for only $75, yes, that's right, for that paltry price, YOU can be witness to the blazing, battling brawny brains of brutality of William Dembski, Stephen Meyer, Jay Richards, and John West.

These Masters of Metaphysical Mayhem will take on all foes, all the hellish heathen hordes of EVILUTIONISMS in a THREE-DAY ARMAGEDDON OF APOLOGETICS.

Get your tickets today! Remember, it's October 23-24, 2009, the ROCKIN' RAGNAROK OF RECKONING!

BE THERE!1!!...Be there...

be there!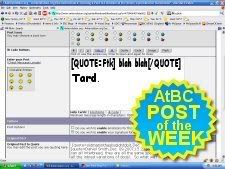 Edited by Lou FCD on Oct. 21 2009,23:16



--------------


AtBC Award for Thoroughness in the Face of Creationism