Richardthughes

Posts: 9731
Joined: Jan. 2006
---
Quote
... Question: If ideas are like stocks, would this be a good time to invest in ID?


Full Disclosure: William Dembski Works for ID inc and is a stakeholder thereof. Dr. Dr. William Dembski has a bad case of Mammon envy*. This post contains forward-looking statements that are based on management's expectations, estimates, projections and assumptions. Words such as "expects," "anticipates," "plans," "believes," "scheduled," "estimates" and variations of these words and similar expressions are intended to identify forward-looking statements, which include but are not limited to projections of revenues, earnings, segment performance, cash flows, contract awards, creobot production, deliveries and backlog stability. Forward-looking statements are made pursuant to the safe harbor provisions of the Private Securities Litigation Reform Act of 1995, as amended. These statements are not guarantees of future performance and involve certain risks and uncertainties, which are difficult to predict. Therefore, actual future results and trends may differ materially from what is forecast in forward-looking statements due to a variety of factors, including, without limitation:
• General U.S. and international political and economic conditions;
• Changing priorities in the U.S. government's education budget;
• Termination of government contracts due to separation of church and state;
• Differences in anticipated and actual program performance, including the ability to perform under long-term fixed-price contracts within estimated costs, and performance issues with key suppliers and subcontractors;
• Changing customer demand or preferences for religions, including the effects of kiddy fiddling and looking at Denyse's mugshot;
• Reliance on a large number of Tards to try and get the word out
• The status or outcome of legal and/or regulatory proceedings.
All forward-looking statements speak only as of the date of this post, in the case of any document incorporated by reference, the date of that document. All subsequent written and oral forward-looking statements attributable to the company or any person acting on the company's behalf are qualified by the cautionary statements in this section. The company does not undertake any obligation to update or publicly release any revisions to forward-looking statements to reflect events, circumstances or changes in expectations after the date of this post.


* Thanks Heddle.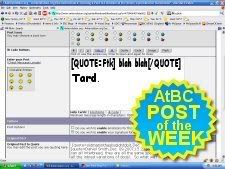 Edited by Lou FCD on July 09 2008,17:09



--------------
"Richardthughes, you magnificent bastard, I stand in awe of you..." : Arden Chatfield
"You magnificent bastard! " : Louis
"ATBC poster child", "I have to agree with Rich.." : DaveTard
"I bow to your superior skills" : deadman_932
"...it was Richardthughes making me lie in bed.." : Kristine