Tony M Nyphot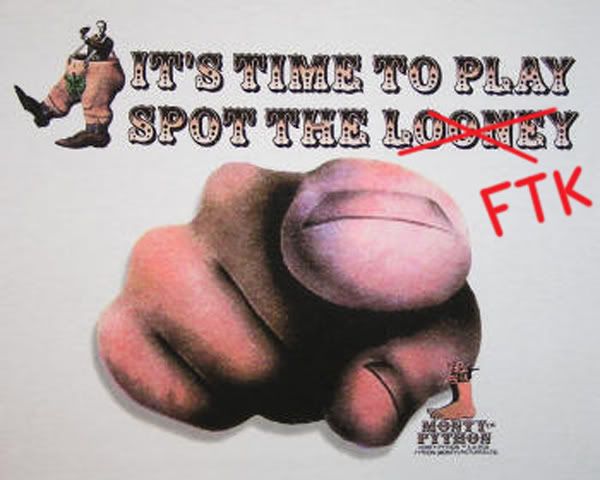 Posts: 189
Joined: June 2008
---
Quote (dheddle @ Nov. 20 2009,05:48)
Quote (Tony M Nyphot @ Nov. 19 2009,21:18)
Quote (paragwinn @ Nov. 18 2009,18:54)
Quote (Lou FCD @ Nov. 18 2009,11:32)
Quote (dheddle @ Nov. 18 2009,07:49)
Quote (Lou FCD @ Nov. 17 2009,21:33)
Sometimes, it's the little things that  bring a little tear to my eye. Ah, memories. Davey says he knew all along...

-----

Leo Stotch flaunting the ban hammer was pretty classic, Carlson, planning or no.

Huh?!? I never knew you were that alternative-lifestyles lady. These are mental images and juxtapositions that can never be deleted.

Really? Funny stuff right there.

Davey going over to DAJ's blog and spamming the shit out of it in defense of JanieBelle was hysterical.

I saw the spamming. So that was what all that was about? Lou, I've gained a new appreciation for your Jedi-like power of manipulation over the weak-minded.

paragwinn and heddle,

As I'm quite sure both of you are familiar with the personalities involved, sit down when you have an hour or two and read through UDOJ, following the links to UD and JAD and I guarantee it will provide as much amusement and laughs as any other form of entertainment available.

If not, I'll send you both a bottle of scotch.

Is there sort of a starting point? The linked post where the masquerade is revealed doesn't have a sort of "begin here" link. What is the other blog being mentioned, DAJ? Is that one of Davison's blog?

I have a faculty meeting at noon, and it would be nice to have some entertaining reading to get me through it.

Well, I suppose at the beginning would be a good place to start:

http://udoj.blogspot.com/2006_06_01_archive.html

(first post at the bottom)

Lou's pic in the left column did not exist and the "I'm entirely fictional" under Janiebelle was not there. Follow the posts as if you did not know this was set up by Lou. Several short posts are inconsequential and can be skipped, but they provided legitimacy to the grand charade. To get the full benefit requires some reading at UD and Davison's blog.

Particular memories I recall were the Marines/Kate scare (complete with advice from the floating command center), the Big Green Marker treatment of Davison, WmAd's personal banning of Janiebelle, Springer's defense of the girls at both UD/JAD, the aforementioned Springer flounce-out-from-UD post...

While many individual events are funny in and of themselves, the entirety of the comedy-drama and the people it pulled in is without compare.

Lou's web caught many flies.

--------------
"I, OTOH, am an underachiever...I either pee my pants or faint dead away..." FTK