Tracy P. Hamilton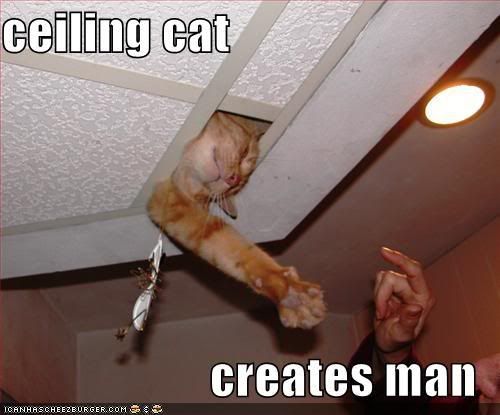 Posts: 1222
Joined: May 2006
---
Quote (dvunkannon @ May 21 2012,21:11)
Quote (Tracy P. Hamilton @ May 21 2012,16:16)
Quote (dvunkannon @ May 21 2012,13:01)
Quote (OgreMkV @ May 17 2012,09:46)
HELP!!

I'm working on this project and the discussion revolves around changes to the C-14/C-12 ratio because of magnetic field changes, increasing and decreasing the cosmic radiation, resulting in more or less C-14 in the atmosphere.

Now, my question is... if the amount of C-14 in the atmosphere increases, shouldn't that lower the radiocarbon date (before calibration)?

This sounds right to me, but I'm having trouble showing it mathematically.

Any resources or help would be greatly appreciated.  And if I'm mistaken and the C-14 is smaller, do let me know.

edit:
FOUND IT!

I found the C-14/age curve and it show the inverse relationship.

I'm not sure I buy the argument that a change in the Earth's magnetic field strength would change the amount or energy of cosmic rays entering the atmosphere and creating  C-14.

It seems to me that a variation in field strength would only affect the the distribution of incidence into the atmosphere (towards or away from the magnetic poles) but not cause charged particles to hit/avoid the planet or be more/less energetic. Since the C-14 is created in the upper atmosphere (I'm assuming) I would expect it to be thoroughly mixed and therefore just as likely to get incorporated (or not) in organic matter as C-14 created in the tropics.
Cosmic ray variations due to the Earth's magnetic field

Thank you for helping me learn something new!

I assume the neutron monitors are observing neutrons that are a byproduct of the cosmic rays. As neutral particles, the earth's magnetic field should not deflect them at all.

Still, the variation is 0.5 of some unit for 12 hours? Because low energy cosmic rays got through a weakened field. Are these low energy cosmic rays of the right energy to create C-14?

Accepting the possibility that there could be an effect, it seems that times of pole reversal and disappearance of the earth's field might leave a signal in C-12/C-14 ratios, but most of those events have happened too long ago for the C-14 to survive.

The cosmic rays are charged, after interacting with the atmosphere they produce secondary particles, said neutrons.

As you say, geomagnetic reversal is not visible for C-14, but there are cosmogenic isotopes, which I learned about via climate and when some IDiot was arguing here about radiodating (specifically strontium). I had to look it up - forastero.

--------------
"Following what I just wrote about fitness, you're taking refuge in what we see in the world."  PaV

"The simple equation F = MA leads to the concept of four-dimensional space." GilDodgen

"We have no brain, I don't, for thinking." Robert Byers