afdave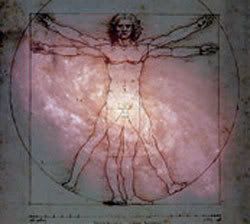 Posts: 1619
Joined: April 2006
---
Quote
From Corkscrew ...
- Hypothesis: humans evolved from the same lineage as modern apes
- Observation: the modern apes that are most physiologically similar to humans have 24 chromosomes per haploid
- Observation: humans have 23 chromosomes per haploid
- Conclusion: either humans have lost a chromosome or the other apes have all gained a chromosome
- By application of parsimony: humans have lost a chromosome
- Observation: chromosomes are generally "lost" by merging with another chromosome, as destruction of a chromosome's worth of genetic information is generally fatal
- Conclusion: at some point in our ancestry, two human chromosomes merged
- Prediction: one human chromosome will closely resemble two ape chromosomes merged together.
This prediction was subsequently confirmed. I can present other instances of confirmed predictions if you like.

Corkscrew continues to be the most logical sounding, non-emotional advocate of the general Theory of Evolution that I have heard over here at PT.  Right behind him is Faid, who is at least polite and does not engage in polemics, and Norm who sounds intelligent.  I keep throwing this bone out to ToE advocates that you will further your cause if you adopt the rational, non-emotional 'Corkscrew' approach.  Adopting the 'Aftershave' approach or the 'Mr_Christopher' approach will only harm your cause.  This hypothesis is very interesting to me and I want to hear more.  I will copy it into my "AF Dave wants you to prove Evolution" thread, then I would like to do some Google searching and get back to you on this as soon as I can.

Quote
Corkscrew said ... In general, the only time we take a statement on trust is when we can reasonably expect that it would have been falsified were it not true. Or when we have absolutely no other option. Abduction is rarely more than half the story, and in science it's generally not even that.

At first glance, I don't agree with this, but I will consider it further to see if my disagreement is warranted or not.  What do you think about Meyer's objection to falsifiability as a criterion for status as a "scientific theory"? [I'm asking Corkscrew ... or anyone else that wants to provide a calm, rational answer other than 'Meyer is a liar', etc.]
Quote
With the death of positivism in the 1950s, demarcationists took a different tack. Other semantic criteria emerged, such as Sir Karl Popper's falsifiability. According to Popper, scientific theories were more meaningful than nonscientific ideas because they referred only to empirically falsifiable entities.21 Yet this, too, proved to be a problematic criterion. First, falsification turns out to be difficult to achieve. Rarely are the core commitments of theories directly tested via prediction. Instead, predictions occur when core theoretical commitments are conjoined with auxiliary hypotheses, thus always leaving open the possibility that auxiliary hypotheses, not core commitments, are responsible for failed predictions.

Newtonian mechanics, for example, assumed as its core three laws of motion and the theory of universal gravitation. On the basis of these, Newton made a number of predictions about the positions of planets in the solar system. When observations failed to corroborate some of his predictions, he did not reject his core assumptions. Instead, he scrutinized some of his auxiliary hypotheses to explain the discrepancies between theory and observation. For example, he examined his working assumption that planets were perfectly spherical and influenced only by gravitational force. As Imre Lakatos has shown, Newton's refusal to repudiate his core in the face of anomalies enabled him to refine his theory and eventually led to its tremendous success.22 Newton's refusal to accept putatively falsifying results certainly did not call into question the scientific status of his gravitational theory or his three laws. Meyer on Scientific Status of Intelligent Design

AFDave said ...
Quote
I have already hinted about some of my evidence for Point 1 - There is a God ... namely, the Cosmic 'Fine-Tuning', biological 'machines' we observe and so on.
Chris Hyland said ...
Quote
We would also expect to see these things if there weren't a God.
On what basis?  Your personal experience?  Is there a scientist somewhere that has observed this that I have not read about? In my personal experience and in all my reading, I have never observed (or read about) a non-intelligent cause producing a functional machine (there are a few equivocal examples I have heard about).  Have you?  My experience has ALWAYS been that functional machines require intelligent agency.  Therefore, I think my hypothesis of a Super-Engineer (I do not insist upon calling him 'God') is a better explanation.

Eric Murphy said ...
Quote
Let me ask you something, Dave: would it surprise you to find yourself living in a universe that cannot sustain life? I know it would surprise me.
If you read what I have written, you will notice that I said I am content to discard the term 'Surprising Fact' and simply use 'Phenomenon.'

Quote
So let's just say that your fine-tuning argument, aside from being hardly original, is a less than compelling argument for the existence of God. At best, it's an argument for good luck. Assuming you think being blessed with existence is actually good luck.
I didn't say it was original ... 'my hypothesis' means to me a conglomerate of existing ones plus some of my own thoughts presented in my own way. Everyone does this.  Why is it less than compelling? Have you ever experienced or read about a system that was 'finely tuned' that was NOT finely tuned by an engineer (or team of them)?

Quote
You're conflating various origin concepts (origin of the universe, origin of life, origin of species) and applying exactly the same teleological reasoning to each. Teleological reasoning has the illusionary quality of appearing "knowable" but it's really a mask for a great big unknown. Wikipedia has an entry on teleology: http://en.wikipedia.org/wiki/Teleological_argument
Consider your airplane argument. It's classic teleology. You're stealing the basic concept of William Paley's watchmaker argument which was made prior to Darwin and which Darwin himself shot down after he believed it for awhile. Teleology and the watchmaker argument have even deeper flaws than those noted by Wikipedia.

Yes.  I am conflating them.  If I had a good reason from my experience and observable evidence NOT to conflate them, then I would not conflate them.  But I think it is quite well accepted now that the universe is finite and had a beginning, is it not?  (I think the 'parallel universe' theory is pretty much dead). So this provides support to my 'God' hypothesis.  No one has a clue about the origin of life, so why shouldn't we propose 'God' until we can find something better?  No one has yet shown me an example of a worm-like creature evolving into a squid or a dinosaur-like creature evolving into a bird, etc., etc. (did I get the supposed progression right?), so again, what is so unscientific about proposing a Master Engineer (or a committee of Master Engineers) that MIGHT HAVE created them?  And what is wrong with proposing that they all be conflated into one entity?  There are other lines of evidence that support this.  I think we can AT LEAST propose it, then investigate.  Wikipedia's main gripe of the Watchmaker argument (and I assume teleology as well) seemed to be that you run into the 'brick wall' of 'Who Designed God?'  I admit this readily, but just as the native would be wrong to say 'I cannot explain who designed the engineers at Cessna, so I will not believe that Cessna engineers designed Cessna airplanes', it is just as illogical to toss out the 'God possibility' simply because we cannot explain HIS origin.

Quote
Chris Hyland's Evolution Hypothesis
A1=WE OBSERVE A FINELY TUNED COSMOS.
Stars and that...
B1=A SUPER-INTELLIGENCE DIDN'T SET THE PARAMETERS
Because evolution is bound by many factors including physical constants ie the properties of water and carbon, and the availability of energy, it will create organisms that depend heavily on these. Therefore because we observe that if any of the physical constants change life would not exist we assume that evolution is true. Under the alternative hypothesis, we could just as easily see organisms survive if the universe was stacked against them.
I do not follow your logic.  Can you explain more clearly?  Also, to use my structure, you would need to propose what DID set the parameters.  Are you proposing that the parameters got set by chance?  If so, what basis do you have from your experience to propose this as valid?  How would you deal with the odds against this, etc.?  I think maybe what you are saying is that you don't believe the 'fine tuning' was necessary for life to evolve?   I obviously have already accepted that they are set precisely to sustain life because I think this is well supported.  Are you saying you do not accept this?

Quote
If someone says a heavier than air machine cannot fly and then someone builds one that can -- it is as absolutely certain a thing as man can know that a heavier than air machine can fly.
I see what you are saying, but even in this case, it is only absolute certainty to the person (or people) who built it and flew it. Think about it.  All other people who hear about it will get INDIRECT evidence--they will read about it, see the report on TV, etc. and of course this is quite reliable for the example you raise.  But TV and newspaper reports can get unreliable when reporting less cut and dried events.  The Miller/Urey experiment is an example.  The headlines were something like "Scientists Create Life in a Test Tube!!"  Oh really?  On closer examination, we found that was a big stretch (translated, lie).  Ditto for newspaper reports of many supposed human ancestor fossils.  For our discussion, I am assuming we were talking about things which CANNOT be verified directly, such as forces, fields, atoms, quarks, past events, mental states, subsurface geological features, molecular biological structures, airplane factories that the natives have never seen, George Washington, and 'God' to name a few.

Quote
You talk of "absolutes" to escape Danny Hillis' demonstration of evolutionary concepts, but then you talk of "truth" when dealing with Meyer's metaphysical conjectures. You don't see a problem with that?
My problem with Danny Hillis' has nothing to do with the concepts of 'absolutes'.  It has everything to do with the question of 'What exactly does the Hillis demo tell us? (Really, when we remove the spin)  Notice my reference to the word 'truth' is in quotes because I know there are different definitions of truth.

Quote
These tidbits from your favorite DI fellows aren't evidence, Dave.
If they are not, then could you propose an example of what IS evidence?  Let me guess ... mountains and mountains of 'scholarship' from the science establishment to support Naturalistic Explanations Only?  This was the kind of odds Galileo was working against too.  Are you telling me that I should believe your evidence and reject mine because yours fits with the majority?

Quote
Second, what does "life-sustaining universe" mean?
Exactly what it says.  And I challenge you to propose some parameter changes and ask a biologist how likely it would be for life to continue.  The problem with naturalistic speculators like yourself is that you guys like to say "Well, we only know about life on earth ... sample size of one.  There could be other planets, other universes, who knows!"  OK, great.  I agree.  And there could be a Fairy Godmother for all I know.  But if we are going to admit wild speculation into the arena, let's admit ALL kinds of wild speculation into the arena.  My favorite is "Parallel Universes".  I don't know how people can tell me with a straight face that there might be an infinite number of parallel universes, then in the next breath tell me I'm a wild speculator for proposing an Infinite God character.

Regarding the Denton "howler" ...  THIS is the howler ...

Quote
All the evidence available in the biological (and geological) sciences in fact supports the proposition that life began ~3.8 billion years ago
*cough* because we arbitrarily made some massive initial conditions assumptions so it would come out that long
Quote
and that from that time forward the most numerous, diverse, robust, and tenacious life-forms have been prokaryotes.
the old 'what do you think makes humans so special, just look at the bacteria' saw ... sometime I'm going to do a thread on the implications of this thinking on law and culture ... talk about a howler ... this one will be way better than Rush Limbaugh and the Tree Huggers!
Quote
Multicellular, animal life has been around for maybe a billion years
based on our flawed assumptions in dating supposed 'index fossils'[/quote], most of that as relatively undifferentiated worm-like creatures. Mammals have been around for 80 to 100 million years, primates about 40 million, hominids 7 to 8 million, and genus Homo maybe two million[/quote]Ditto above ... funny ... every non-YEC history book I can find anywhere says things like "4000 (or so) BC: History Begins" (I never find over 10,000).   Hmmm... what did all those 'Homos' do for 1,996,000 years?  You're telling me they all of a sudden started writing and making artifacts only in the last .000000001% (or whatever) of their existence on the planet ... yeah, pretty plausible
Quote
The human conception of a creative "Super-Intelligence" is about the only thing the Bible dates correctly, being about 5 or 6 thousand years old. In other words, roughly .000001 of the history of life, or .0025 of the existence of our genus. Pretty long build-up for the punchline, wouldn't you say?
the buildup is in your imagination, Mr. O'Brien, which is great.  I like imagining things too.  Have you seen Narnia?  It's a good one for the imagination, but it's not about science, unless we redefine science ... which I'm not opposed to as long as the rules are fair.

Quote
Tacitus said ... Dave, I'll bite.  You don't regard yourself as "religious"... maybe I'm being too suspicious, but I've heard this assertion from fundamentalist Christians to take it at face value.  They seem to regard their faith as something more than religion, but by any dictionary definition, Christianity, or faith in Jesus or whatever way you want to term it, is still a religion.  So, Dave, is that the case with you?
'God, Jesus, etc,' are religious terms by convention, and I understand that most people consider me religious, and I will call myself religious in certain contexts so as not to confuse people needlessly.  But my real view of myself is that I am scientific, not religious.  But my definition of science is ... drum roll ... more expansive than yours.  I consider ALL possibilites for explaining and describing the universe, not just so called 'naturalistic ones' which we presently understand. I, in contrast to you, make allowance that there just might be some things that we don't understand yet because our science is not advanced enough ... like angels and demons and creation  of matter from nothing and the ability to walk on water, part the Red Sea, etc.  Why do you guys choke so much on these ideas?  I thought you were scientists, forever pushing the boundaries back.  Isn't that what you want?  This is the most illogical thing to me.  That supposedly open-minded scientists would categorically rule out so many possibilities for explaining phenomena. Here ... go read Meyer some more and call me in three days ... http://www.discovery.org/scripts....Science

Quote
If you are being sincere in your search for the truth (BTW: only creationists and religious fundies capitalize talk about "Truth") then you need to read  the books and articles that directly refute their claims.  Are you prepared to do that?
Already did.  Been there. Done that.  Didn't buy it because it was unconvincing.

Quote
So far you haven't provided any evidence at all to support YEC or God, just your own (and a few other Creationists') personal incredulity. "WOW! It's just SOOOOO complex, I'm too stupid or too lazy to investigate how it could have evolved!!"  You sound just like the natives looking at the "flying canoe".
Uh, oh.  I'm getting 'Aftershaved" again.  Hey try some intelligent sounding arguments instead of insults ... they work better. See Corkscrew, Norm and Chris Hyland and others for some good examples of intelligent sounding stuff.

Quote
First, under oath, Behe testified that Astrology would qualify as a legitimate science under Behe's definition.
Let's get the quote right at least if you're going to quote him.  Here's what I found ...
Quote
They acknowledged under oath that ID cannot qualify as science unless the definition of science is completely changed to admit the supernatural. Behe acknowledged that under his definition, astrology would equally qualify as science.
OK. So astrology wants to call itself a science?  Let 'em.  They have to prove their ideas just like the YECers and everyone else.  Don't you believe in the free market of ideas?  I think the majority would weed them out just like it does in other arenas.  Do you see an Astrology Chapel at the USAF Academy? (I was just there).  Do you see a Scientology chapel?  Or a Buddhist temple?  No.  You see a BIG Protestant chapel, a smaller Catholic chapel and a smaller still Jewish chapel.  Why?  Democracy.  Freedom.  Reflection of the majority within practical limits.  Should the USAF Academy shut down all religion on campus b/c it's a government entity?  Of course not.  Remember.. here in the USA ... Congress shall make no law respecting an establishment of religion [no state church lke the Church of England] or prohibiting the FREE EXERCISE thereof.  Same for science classes.  We shouldn't be telling kids 'God created the world' in science class and we shouldn't be telling the world that 'Evolution created the world' in science class.  We should be telling them 'Most scientists believe some form of Darwin's Theory of Evolution to explain the appearance of life.  Many non-scientists and a minority of scientists believe in some form of supernatural cause for the appearance of life.  Creationism and Intelligent Design Theory are two of these views.' And if Astrology or Scientism or Christian Science or whatever gets a big enough following, then throw them in there too and let the kids decide for themselves with the help of their parents.  And this is one point I would probably agree with all of you about.  I know there are YECers who share my view of Origins but who use bad tactics--'Let's teach the kids that God said it, I believe it and that settles it!!'  I join you in vigorously opposing these types.  They are not my allies.

Quote
The prosecuting attorney then dropped a two foot high stack of over 60 peer-reviewed scientific papers and articles with research detailing the evolution of the human blood clotting system and asked Behe if he was familiar with the work..  Behe replied that he didn't need to read them as he already knew his claim was correct.
I didn't check this quote for accuracy, but I imagine he feels as I feel that scientists just keep on writing mountains and mountains of nonsense to support these notions they really, really want to be true ... like the immune system evolved, etc.  I've read a lot myself and it all starts to sound the same ... I'm sure you can relate.  Many people here have said the same about the stuff I write.  I will agree with you that it seems hair-brained to adopt the strategy to go try to defend a local school board's decision to put 'Evolution Warning Labels' on the books.  I mean ... who knows what kind of rednecks you might be defending?  Why fight this in the courts anyway?  I can think of better places to get the word out. So is that 2 things we agree on now?  Oh yeah ... we're both EE's.  OK 3 then.

Quote
The "fine-tuning" argument is really an argument "against" a God of miracles.
Not if you use MY definition of 'miracles'.  Have I given that yet?  A miracle is simply a natural law being employed which our science does not yet understand.  Jesus knew how to walk on water (if the NT record is true), but we don't yet, etc.

--------------
A DILEMMA FOR THE COMMITTED NATURALIST
A Hi-tech alien spaceship lands on earth ... DESIGNED.
A Hi-tech alien rotary motor found in a cell ... NOT DESIGNED.
http://afdave.wordpress.com/....ess.com