k.e..

Posts: 2714
Joined: May 2007
---
Quote (CeilingCat @ April 12 2012,11:49)
Good news for readers!  Is the world a confusing place to you?  Can't figure it out?  Stumped?  About to give up?  Well, rejoice!

Tragic Mishap has just written a book!

See it here.  

The title is "A Mishmash Paddywhack" and the author is ... Tragic Mishap!  Who knew that was his real name?
       

Quote
A Mishmash Paddywhack establishes a highly original, thoughtful and comprehensive conservative vision for the twenty-something generation written by a rare conservative member of it. The book is structured as a collection of issue-driven non-fiction essays alternating with satirical fiction, all focused on the intersection of religion and politics in the United States. Essay topics include abortion, marriage, gender roles, poverty, economics, immigration, theology, politics, science, education, and much more. The fiction delightfully pokes fun at the same issues through the eyes of Christian and Western history while embarking on a journey from the Garden of Eden and back again. Together the fiction and non-fiction weaves a messily consistent perspective on many of the most important issues of our day. If you are interested, just check out the Introduction to the book by clicking on "Preview."


If you do click on "Preview", you'll find that Tragic "and other likeminded folk" are waiting for you at whack.freeforums.org.  whack.freeforums.org seems to be a good place to repair to if you don't like crowds.  It's telling me right now, albeit at 3:25AM CDT, that "In total there is 1 user online :: 0 registered, 0 hidden and 1 guest (based on users active over the past 5 minutes)
Most users ever online was 2 on Sat Jan 14, 2012 8:19 pm"

So they've had as many as two people reading it at one time!

Oh, Tragic's blog is named "The Whack Blog".  No challenges from me, there.  It appears to be the only blog at whack.freeforums.org.  It has three threads, of one message each (from Tragic, of course).  The three questions have no replies as yet, but if you register you are invited to type something.  I'm managing to resist so far.

Oh yeah, in humble appreciation of Denyse O'Leary's endearing attempts to "get with it" and show how "cool" and "right on!" she (and Tragic) really are, every message ends with this signature:

"Now that's whack."

I think "Now that's a whack job" might be more appropriate.

P.S. In support of the publisher, Lulu, while it is true that anybody with a bit of money can publish there (it's a book on demand publisher), I have actually purchased two good books from them.  They were "Carl and Jerry, Their Complete Adventures" Volumes 1 & 2 by John T. Frye, reprints of a series of stories in the long defunct "Popular Electronics" magazine from the 50s.  I don't think "Mismash Paddywhack" rises to their standard.

Wasn't Popular Electronics a just a vanity publication.../
...k.e.. ducks <snikker>

I remember seeing this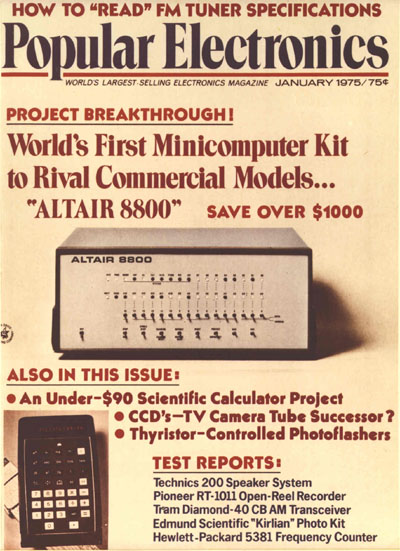 as a savy 19 year old when I was about to leave NZ to see the world when I thought ...I have just seen the future.....why don't I stay and make a killing?

No problem ...that came later.

--------------
"I get a strong breeze from my monitor every time k.e. puts on his clown DaveTard suit" dogdidit
"Abbie Smith (ERV) who's got to be the most obnoxious arrogant snot I've ever seen except for when I look in a mirror" DAVE TARD
"ID is deader than Lenny Flanks granmaws dildo batteries" Erasmus