Richardthughes

Posts: 9740
Joined: Jan. 2006
---
Quote (Zachriel @ Sep. 07 2012,10:30)
Quote (Erasmus @ FCD,Sep. 05 2012,15:30)

well to be honest some of you lot need to frikkin vote
ETA  I have 12 votes.  That's chickenshit.  Y'all get out there and let freedom ring now, heah?

As you're asking on the Uncommon Thread, and we shan't be bothered to read the rules, so we will nominate primarily from the Uncommon World. Here are amongst the tardiest per our estimation:



Best Costume
GilDodgen, for "The Frilly Shirt", critics say 'You gotta see it to believe it!'
Runner-up Bill Dembski for "Grandpa's Sweater".




Best Soundtrack
Bill Dembski, for "Farttime for Dawkins in Tardany", which brought The Argument Regarding Design to a new level of sophistication.




Best Script
Upright Biped, for "The Lonely Semiote", taking a simple fallacy and stretching it into the utmost elaborate self-convincing argument possible.
Runners up Gpuccio for "What?! No Intermediate Handbags?", and Vjtorley for "Will this do, Professor?"




Technical Achievement
Kairosfocus, for "PSSSSSS", enough nested indentations and bullet points for the whole family!




Biggest Pile
Kairosfocus, for "GEM of TKI".




www.youtube.com/watch?v=63UlBsdElsY




Greatest Tardhammerer
Dave Scot, "Is No Longer With Us". No, really. He's no longer with us.
Runner-up Barry Arrington for "A Good Start".




Most Pompous Bloviator
Granville Sewell, for "Entropy, Entropy, Wherefore Art Thou Entropy?", now at ten thousand performances and no end in sight!
Runner up, Zachriel for "Zachriel". (We wish to thank Ourselves for this well-deserved honour.)
Honorable mention for PaV in the apocalyptic "The End of Darwinism is Nigh".




Miss Congeniality
Scordova, for being himself.




Best Actor in a Comedy
Joe, whose coulrophobia inspired a generation (of clowns).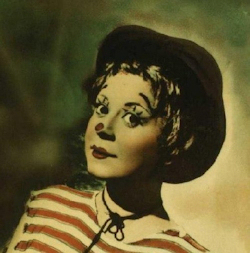 Best Actor in a Drama
Kairosfocus, for his incredible performance as a delusional and paranoid island castaway.




In Memoriam
John A. Davison, best known for the longest monologue on a single thread (mostly because he apparently didn't know how to start a new one).




Lifetime Achievement for Epic Tard
Sean Pitman, in the lyrical "O Sean Pitman".

Beware a war of words, Sean Pitman, Ere you err.






www.detectingdesign.com





Palme T'ard
William Dembski, for playing the haughty professor who never deigns to respond to criticism, who in his heart knows his life work is silly nonsense.


PotW, easily. Can we get some nominations for Best sciency-sounding made up acronym? [BSSMUA]

You might want to check the work of
Gordon Mullings
GEM of TKI
Kiros Focus
Bydand! the constitution fixer
Mister Leathers
Semi Quasi stroking porn-watcher.

--------------
"Richardthughes, you magnificent bastard, I stand in awe of you..." : Arden Chatfield
"You magnificent bastard! " : Louis
"ATBC poster child", "I have to agree with Rich.." : DaveTard
"I bow to your superior skills" : deadman_932
"...it was Richardthughes making me lie in bed.." : Kristine