You have to understand that there is a pattern, or trajectory, to the life of an anti-evolutionist here at this site. It goes something like this:

Step 1. Hi!  I am just trying to understand evolution!  Can you help me?

Step 2. What about this [insert anti-evolution argument thinly disguised as a question]?  I am confused about how evolution explains that.

Step 3.  The actual working scientists here explain in detail the evidence disputing the argument in #2.  They try to tailor the message to the person's knowledge level, but the anti-evolutionist is circumspect about what their level of scientific study and understanding is.

Step 4.  The anti-evolutionist drops the pretense of being curious and begin debating the point using the exact arguments found in one of the innumerable anti-evolution potboilers even though it is clear they don't have even the slightest understanding of the information that was painstakingly laid out for them in #3.

Step 5.  The real working scientists become increasingly frustrated with the resistance to learning exhibited in #4 by a person who has only read one of the eleventy dozen books by Dembski, Meyers, Wells, et al and think they now qualified to overturn the last 150 years of scholarship.

Step 6.  These scientists become less willing to share their time and the knowledge that took them a lifetime of painstaking study to acquire with someone who exhibits such willful ignorance.  Some get angry out of the frustration. Others give up and engage in mockery.

Step 7.  LOLCats!




Step 8.  The anti-evolutionist says "You guys are mean!", throws out some version of Pascal's Wager, and flounces out.

So far, my friend, you have successfully gotten through Step 1 and 2.  And I am trying to help you through Step 3, but you are being rather vague.

So, in answer to your question, you didn't mention God.......yet.  And maybe you won't.   But you would be the first.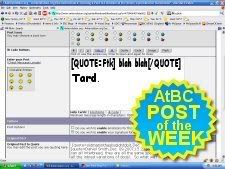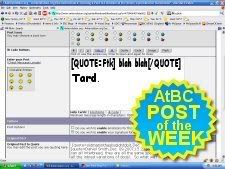 Edited by Lou FCD on Feb. 21 2010,18:19



--------------
It's natural to be curious about our world, but the scientific method is just one theory about how to best understand it.  We live in a democracy, which means we should treat every theory equally. - Steven Colbert, I Am America (and So Can You!)