Louis

Posts: 6436
Joined: Jan. 2006
---
Quote (kevinmillerxi @ Jan. 11 2009,17:19)
Louis: I never figured you to be prone to such wild flights of fancy. Do you seriously think someone would go to the extent of creating hundreds of fake accounts on Amazon and then review books and movies for months and years beforehand just so that when Expelled came out we could give it a positive review? Give me a break. I really expected more from you. Even a brief glance at the evidence would show you're off your rocker.

As far as I can see, the only real conspiracy on Amazon was PZ Myers and his little pack of Darbots running over to slag the film as soon as the DVD was announced. But they were quickly overwhelmed by those who had actually seen the film--and liked it.

Tsk Tsk. I know it's hard to take, Louis, and that your admittedly agile mind is scrambling to find some way--any way--to explain away the obvious data. Life would be so simple if we could simply write off everyone who disagrees with us as stupid or ignorant. But even though that may be true in a few cases, applying such a theory on a broad scale runs smack into the *overwhelming* contrary evidence. If you care about evidence, that is, not just the little snippets of data that support your dark, binary view of the world.

As for you, dnmlthr, the only thing sad here is a group of miscreants winging away for months and months on a discussion thread about a film they hated. In the words of William Shatner, "Get a life!"

SWING and a miss!

Oopsie Kevvo, you can has reasoning and reading for basic comprehension fail.

What I said was that "Given the above factors and a few others besides is it such a surprise that Amazon has had hundreds of positive comments regarding this video nasty?", this is a probabilistic statement, not an absolutist statement. Learn to tell the difference and one day you may be able to manage simple tasks.

PZ and friends' poll crashing proves my point*. It's easy to do this. I make no claim that this was what was done in the case of "Expelled: No Intelligence Allowed"** (after all how could I? I have no evidence) my point was, is, and remains that it is easy to do this, NOT that this was done. It is why I take internet polls/reviews of this nature with a great big pinch of salt. Such media are too easily manipulated.

Bear in mind that (as I mentioned) there are also >>100s of creationists in the USA. I'd be shocked and amazed if your vile piece of dishonest propaganda...oops sorry....shitty failure of a movie....oops sorry again...asinine bullshit*** mindlessly vomited forth from the odious orifices of the perpetually deluded failed to get ~100s of positive comments on Amazon. I would be utterly staggered if the delusional chaps and chappesses behind the DI/UD/your production staff etc etc and their ilk (which must number at least a few hundred) did not find your crap-filled choir preaching in some way enjoyable/good and some fraction of them said so.

Added in edit: To use terms you might understand: Many Nazis liked Nazi propaganda and said so.

Hence the comments about "Dog bites man" etc. Your assurance that there are multiple views about that feculent televisual trash you produced is not news. It is utterly unsurprising. Whoring for your latest video by illogical references to the "controversy" surrounding a former video is part of why you, and your movie, are mocked. Said whoring is also a manifestation of one of many reasons you don't understand why you are mocked.

Do try to keep up.

Louis

*Incidentally not something I a) care about or b) approve of in the manner you think. It's low hanging fruit. PZ's reasons are his own, I seem to remember he mentioned something along the lines of demonstrating the pointlessness of these sorts of poor polls however. Like FTK you seem incapable of thinking outside of "team terms". This really, really, REALLY isn't about which "side" you're on. My view of the world is not in any way binary, your misunderstanding of my view of the world is. The problem, in this instance, ain't mine.

**Is it time again to note the amazing, and utterly un-self-aware, irony in this title?

***See previous comments regarding the distinction between lies and bullshit.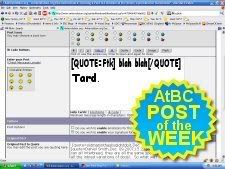 Edited by Lou FCD on Jan. 12 2009,06:26



--------------


Bye.