Occam's Aftershave

Posts: 4870
Joined: Feb. 2006
---
Quote (stevestory @ Jan. 27 2019,09:12)
Quote (Ptaylor @ Jan. 26 2019,23:30)
Ha - Ed George has added:
     

Quote
BA77
     

Quote
You can forget about me commenting on your threads going forward.


That is much better than a "read more" button.

I'm giving a POTW to Ed George.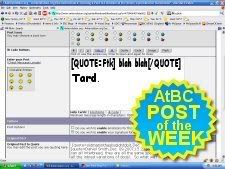 Seconded.  That was the funniest thing I've read in months.    


--------------
"CO2 can't re-emit any trapped heat unless all the molecules point the right way"
"All the evidence supports Creation baraminology"
"I'm a female retired marine biologist"

Whizz-dumb from Joe "Sharon" Gallien, world's dumbest female impersonator YEC.