fnxtr

Posts: 3038
Joined: June 2006
---
Quote (sparc @ May 31 2012,19:19)
Quote (sledgehammer @ May 31 2012,11:16)
Yay!   Party!!!!!!!!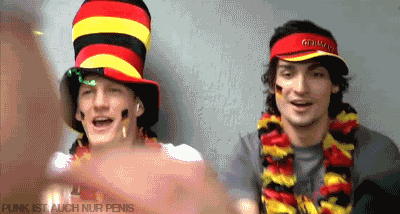 Seconded.
I knew "Punk ist auch nur schlecht gespielter Rock'n'Roll" and the video was originally published under "Punk ist auch nur Disco" But what does this foot line mean?
BTW, since we have Schweinsteiger and Hummels here I will have to reduce Tard watching for the next several weeks for obvious reasons.

"Punk is just badly played rock-n-roll ."

"Punk is just disco."

"Punk is just penis." Whatever that means.

Ich helfe gern.

eta actually answering the question.

eta is it just me or does that guy on the right look like Kelso?

--------------
"[A] book said there were 5 trillion witnesses. Who am I supposed to believe, 5 trillion witnesses or you? That shit's, like, ironclad. " -- stevestory

"Wow, you must be retarded. I said that CO2 does not trap heat. If it did then it would not cool down at night." Joe G