Quote (Erasmus @ FCD,Nov. 06 2012,20:59)
Quote (Kristine @ Nov. 06 2012,17:11)
PS - Now that I live across a fenced yard from (finally!
non-crazy neighbors, a couple who are rather lonely as being 1) the only Jews in this WASP 'burb, and 2) the only Obama supporters besides Rev. Barky and me, we are going to walk over to their place later and surprise them with champagne. I do think that I should wear clothes, though.
What the hay, I wore them at Temple (yes, said neighbors took me to Temple last Friday night, moi! ).

damn gurl you in the vino tonight, eh?  LOL how you get that witchymote

One beer gone. Two beers and three glasses of champagne. Keep up with me, 'Ras.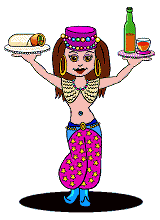 Edited by Kristine on Nov. 07 2012,00:25



--------------
Which came first: the shimmy, or the hip?

AtBC Poet Laureate

"I happen to think that this prerequisite criterion of empirical evidence is itself not empirical." - Clive

"Damn you. This means a trip to the library. Again." -- fnxtr